American Bulldog Verified Dog Breeders near Opelika, Alabama, USA, Page 1 (10 per page)
Member since: 01/06/2017
American Bulldogs PUPS
Breeds: American Bulldog
USA OPELIKA, AL, USA
Distance: Aprox. 0.7 mi from Opelika
Description:
Gorgeous NKC registered bulldogs every time! information check out our website. ONLY 2 FEMALES AND 2 MALES LEFT
View more...
Member since: 04/07/2018
Belvidere Bulldogs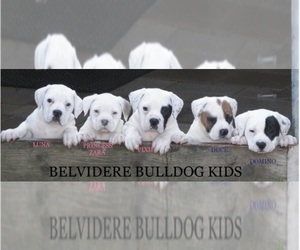 Breeds: American Bulldog
Distance: Aprox. 179.8 mi from Opelika
Description:
600 pet quality 800 full registration. We have been breeding since 2010 as of today our puppies are in 29 states! Our fur kids are our kids...everyone of them are our pride and...
View more...
Breed Mixes of American Bulldog
Similar Dog Breeds for American Bulldog