Aussiedoodle Verified Dog Breeders in Arkansas, USA, Page 1 (10 per page)
/
Aussiedoodle Dog Breeder near CHARLESTON, AR, USA. SUBS-410618. Parker Doodles
Member since: 06/11/2022
Parker Doodles
Breeds: Aussiedoodle (+3)
Description:
Over a decade of experience and tons of references available from past customers. Parker Doodles specializes in Irish Wolfadoodles, Aussiedoodles, and now, mini Sheepadoodles....
View more...
Aussiedoodle Dog Breeder near HARTMAN, AR, USA. SUBS-493859. Daisy Doodles
Member since: 11/02/2022
Daisy Doodles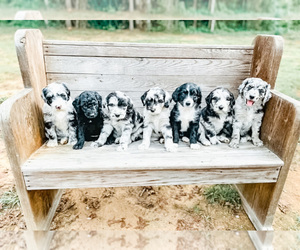 Breeds: Aussiedoodle (+4)
USA HARTMAN, AR, USA
Description:
Hi! My name is Jayme Brice and my wonderful husband is Jay Brice. We have three great kiddos Shayne, Elijah, and Lorelai! In 2017 I rescued my first Labradoodle, Daisy. Her and I...
View more...