Chihuahua Verified Dog Breeders near Columbus, Ohio, USA, Page 1 (10 per page)
Chihuahua Dog Breeder near RAWSONVILLE, MI, USA. SUBS-147486. Bibelot Farms
Member since: 01/22/2016
Bibelot Farms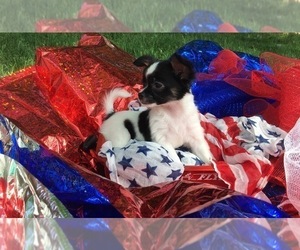 Breeding for great health, temperament, to breed standards. French Bulldogs, Chihuahuas, and Bullhuahuas. Since birth, we provide our babies, with daily neurological stimulation,...
Breeds: Chihuahua (+2)
Distance: Aprox. 160.6 mi from Columbus
Chihuahua Dog Breeder near CRAFTON, PA, USA. SUBS-145873. Tiny Dreams Chihuahuas
Member since: 12/17/2016
Tiny Dreams Chihuahuas
Small in home breeder of quality applehead AKC chihuahuas. With health always our #1 priority, health tested parents, with worldwide champion bloodlines. Striving to produce to...
Similar Dog Breeds for Chihuahua