English Springer Spaniel Verified Dog Breeders near Ellsworth, Ohio, USA, Page 1 (10 per page)
Member since: 01/31/2018
C K Kennels
Breeds: English Springer Spaniel
Distance: Aprox. 19.2 mi from Ellsworth
Stud service availiable
Description:
We are a small in home breeder of ESS. We own the sire and the dam, as well as an old ESS and a Lab mix. We are located in Alliance Oh, on 3/4 of an acre. We love our fur...
View more...
Member since: 05/10/2019
Kanati Creek Kennel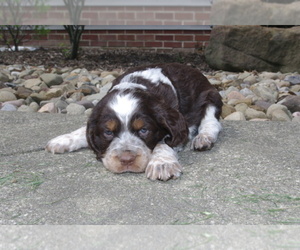 Breeds: English Springer Spaniel
USA ATWATER, OH, USA
Distance: Aprox. 22.3 mi from Ellsworth
Description:
At Kanati Creek Kennel we have years of experience raising and breeding Springer Spaniel field dogs! This litter consists of championship bloodlines with Tri and Roans both...
View more...
Breed Mixes of English Springer Spaniel
Similar Dog Breeds for English Springer Spaniel