English Springer Spaniel Verified Dog Breeders near Middlebranch, Ohio, USA, Page 1 (10 per page)
Member since: 05/10/2019
Kanati Creek Kennel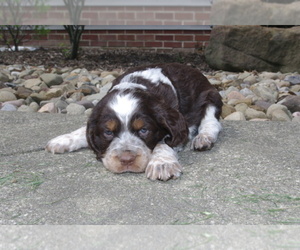 Breeds: English Springer Spaniel
USA ATWATER, OH, USA
Distance: Aprox. 14.1 mi from Middlebranch
Description:
At Kanati Creek Kennel we have years of experience raising and breeding Springer Spaniel field dogs! This litter consists of championship bloodlines with Tri and Roans both...
View more...
Member since: 01/31/2018
C K Kennels
Breeds: English Springer Spaniel
Distance: Aprox. 15.2 mi from Middlebranch
Stud service availiable
Description:
We are a small in home breeder of ESS. We own the sire and the dam, as well as an old ESS and a Lab mix. We are located in Alliance Oh, on 3/4 of an acre. We love our fur...
View more...
Breed Mixes of English Springer Spaniel
Similar Dog Breeds for English Springer Spaniel