Labradoodle Verified Dog Breeders near Saint Louis, Missouri, USA, Page 1 (10 per page)
Member since: 02/14/2018
Windy Acres Puppy Adoptions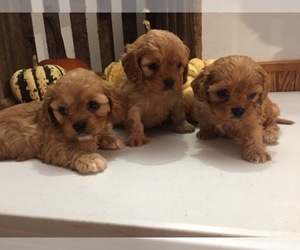 Breeds: Labradoodle (+6)
USA ATWOOD, IL, USA
Distance: Aprox. 144.5 mi from Saint Louis
Description:
We have multiple breeds available, large, medium, and small. We are located in Arthur, IL area. If its not listed, we may be able to find it.
View more...
Member since: 08/05/2019
Sweet Adorable Pups
Many past puppies in service/therapy homes too, proven good temperaments in our babies! Our pups are raised inside our homes, started on house training early, spoiled and great...
Breeds: Labradoodle (+4)
Distance: Aprox. 171.9 mi from Saint Louis
Breed Mixes of Labradoodle
Similar Dog Breeds for Labradoodle