Maltipoo Verified Dog Breeders near Baytown, Texas, USA, Page 1 (10 per page)
Member since: 02/14/2020
Leland Loves Dogs
The Maltipoo commonly weighs between 8 and 25 pounds, stands between 4 and 18 inches high at the shoulder, and usually live anywhere from 12 to 16 years. They are born with a wide...
Member since: 11/07/2016
MaltipooPup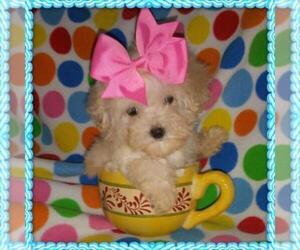 Breeds: Maltipoo (+3)
USA TAYLOR, TX, USA
Distance: Aprox. 156.5 mi from Baytown
Stud service availiable
Description:
Adorable little puppies in your price range! We specialize in the cutest poodle mix puppies. They are crate trained and started on puppy pad potty training early. They are well...
View more...
Similar Dog Breeds for Maltipoo