Portuguese Water Dog Puppies for Sale in Wisconsin, USA, Page 1 (10 per page)
Portuguese Water Dog Litter of Puppies for Sale near Kansas, BALDWIN CITY, USA. ADN-425968. Home Raised Portuguese Water Dog Puppies
Home Raised Portuguese Water Dog Puppies
Date listed: 07/13/2022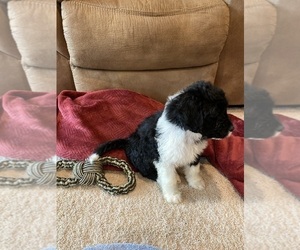 Litter of 8
Breed:

Price:

$1,000

Nickname:

Litter of 8

Gender:

Male(s) and Female(s)

Age:

13 Weeks Old

Location:
Born and raised in our home. Socially integrated with young grandchildren. Plenty of inside and outside time. Playful. Colorful. Smart. Eager to learn.
Portuguese Water Dog Puppy for Sale near Michigan, Carson City, USA. ADN-06107167560. Expected
Expected
Date listed: 04/15/2021
Breed:

Price:

$4,000

Nickname:

Gender:

Male

Age:

Baby

Location:
Posted Breed: Portuguese Water Dog. Wonderful Family dog looking to be your newest family member! Champion bloodlines, great temperament. Comes with full vet exam, microchip, Spay...
Portuguese Water Dog Puppy for Sale near Michigan, Fowlerville, USA. ADN-06098472082. Portidoodle
Portidoodle
Date listed: 04/04/2021
Breed:

Price:

$1,600

Nickname:

Gender:

Female

Age:

Baby

Location:
Posted Breed: Portuguese Water Dog. 2 females available, all look basically alike Both parents on site, sire is pure Portuguese Water Dog Dam is pure Standard Poodle
Similar Dog Breeds for Portuguese Water Dog
Browse thru Portuguese Water Dog Puppies for Sale in Wisconsin, USA area listings on PuppyFinder.com to find your perfect puppy. If you are unable to find your Portuguese Water Dog puppy in our Puppy for Sale or Dog for Sale sections, please consider looking thru thousands of Portuguese Water Dog Dogs for Adoption. Also, be sure to check the Portuguese Water Dog Dog Breeder listings in our Dog Breeder Directory, which feature upcoming dog litter announcements and current puppies for sale for that dog breeder. And don't forget the PuppySpin tool, which is another fun and fast way to search for Portuguese Water Dog Puppies for Sale in Wisconsin, USA area and Portuguese Water Dog Dogs for Adoption in Wisconsin, USA area. - also known as: Cão de Água Português, Cão de Água Algarvio