Scottish Terrier Puppies for Sale near Guthrie, Oklahoma, USA, Page 1 (10 per page)
Scottish Terrier Puppy for Sale near Kansas, HOPE, USA. ADN-326978. Male puppy
Male puppy
Date listed: 01/08/2022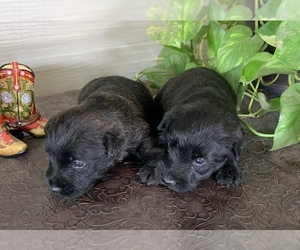 Little boy
Breed:

Price:

$1,500

Nickname:

Little boy

Gender:

Male

Age:

4 Months Old

Location:

USA HOPE, KS, USA

Distance:

Aprox. 194.8 mi from Guthrie
He is 14 weeks, started using the doggie door. UTD on vaccine and wormer. Pictures and videos on FB at Sandhills Edge Equine Massage and Scottish Terriers.
Scottish Terrier Puppy for Sale near Texas, Leonard, USA. ADN-06270239421. AKC Kellie F
AKC Kellie F
Date listed: 01/10/2022
Breed:

Price:

$2,300

Nickname:

Gender:

Female

Age:

Baby

Location:

USA Leonard, TX, USA
Posted Breed: Scottish Terrier. AKC Limited Registration, lifetime paid. One year written guarantee against life-threatening genetic defects. All pups will have dew claws removed,...
Breed Mixes of Scottish Terrier
Similar Dog Breeds for Scottish Terrier
Browse thru Scottish Terrier Puppies for Sale near Guthrie, Oklahoma, USA area listings on PuppyFinder.com to find your perfect puppy. If you are unable to find your Scottish Terrier puppy in our Puppy for Sale or Dog for Sale sections, please consider looking thru thousands of Scottish Terrier Dogs for Adoption. Also, be sure to check the Scottish Terrier Dog Breeder listings in our Dog Breeder Directory, which feature upcoming dog litter announcements and current puppies for sale for that dog breeder. And don't forget the PuppySpin tool, which is another fun and fast way to search for Scottish Terrier Puppies for Sale near Guthrie, Oklahoma, USA area and Scottish Terrier Dogs for Adoption near Guthrie, Oklahoma, USA area. - also known as: Scottie, Aberdeenie