Vizsla Verified Dog Breeders near Sydney, Florida, USA, Page 1 (10 per page)
/
Vizsla Dog Breeder near LAKELAND, FL, USA. SUBS-279757. Country of Origin Vizslas
Member since: 08/07/2021
Country of Origin Vizslas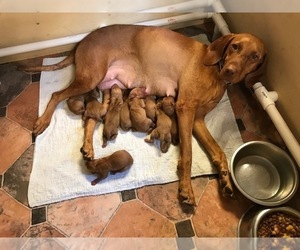 Breeds: Vizsla
Distance: Aprox. 16.0 mi from Sydney
Stud service available
Description:
Male and Female Hungarian Vizslas puppies looking for adoptive parents. Full Hungarian Master Breeder bloodlines, AKC registered. Please visit our Facebook page for updates,...
View more...
Vizsla Dog Breeder near DELTONA, FL, USA. SUBS-72220. Chars Vizslas
Member since: 04/04/2018
Chars Vizslas
Breeds: Vizsla
USA DELTONA, FL, USA
Distance: Aprox. 89.0 mi from Sydney
Stud service available
Description:
Hi i am a Vizsla breeder in FL. I have an excellent blood line,i breed for temperment,healthy loving pups!! Over the top socialized!!I have puppies now! If interested please call...
View more...
Similar Dog Breeds for Vizsla