Pure Breeds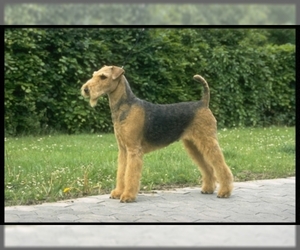 Airedale Terrier
A.K.A. :
Waterside Terrier, Bingley Terrier
Quick Breed Selector
Quick navigation
Airedale Terrier
A.K.A. :Waterside Terrier, Bingley Terrier
| | |
| --- | --- |
| Overview: | Airedales can be great family pets. They're fun-loving and great with children, though they should probably be supervised due to their large size and rambunctious spirit. |
| Breed Group: | Terrier |
| Weight (lbs): | 45 |
| Height (in): | 23 |
| Colors: | Tan with black or grizzled saddle. |
| Coat: | Coat Is smooth, hard, and wire-haired. |
| Character: | Airedale Terriers are loyal, yet they have a stubborn streak. Infrequent barkers, these dogs make great playmates and are very intelligent. |
| Temperament: | This breed is very patient with children and tolerant of other household pets. They may occasionally try to dominate other dogs, however, so training is required.Airedales can be an excellent choice for a family dog. |
| Care: | The Airedale Terrier's coat usually requires very little grooming. The hair should be plucked twice yearly. Show dogs require much more intensive grooming. |
| Training: | This breed is intelligent and understands trainers very well. Care must be taken to keep them occupied during training, however, as they can become easily bored. |
| Activity: | The Airedale Terrier should be allowed three walks a day, plus an ample yard for playing catch and running around. |
| Country of Origin: | United Kingdom |
| Health Issue: | This breed is very hardy, but may suffer from eye problems, hip dysplasia, and skin infections. |
| Life Expectancy: | 10-12 |
Dezi - Airedale Terrier Dog For Adoption
For Adoption
Posted Breed: Airedale Terrier. Sweet Dezi is looking for her forever home. She's been groomed and vetted and she's ready to go. Dezi is a very athletic girl and...
Dezi
Airedale Terrier
Similar Dog Breeds for Airedale Terrier
Quick Breed Selector
0 - not important, 1 - smallest, 10 - largest