Puggle Puppies for Sale near Clare, Illinois, USA, Page 1 (10 per page)
Puggle Puppy for Sale near Illinois, CLARE, USA. ADN-233652. Puggle
Puggle
Date listed: 12/28/2020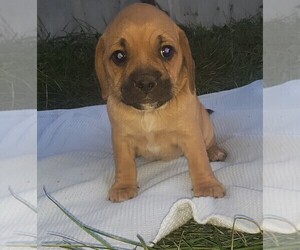 Litter of 8
Breed:

Price:

$1,500

Nickname:

Litter of 8

Gender:

Male

Age:

4 Months Old

Location:

USA CLARE, IL, USA

Distance:

Aprox. 0.6 mi from Clare
Nothing cuter than these adorable puggle pups. Mom is a Beagle and dad is a Pug. They look like little pugs with a little bit longer nose which is a good thing to help breathing...
Puggle Puppy for Sale near Wisconsin, Loyal, USA. ADN-06042777129. Lily
Lily
Date listed: 12/19/2020
Breed:

Price:

$1,600

Nickname:

Gender:

Female

Age:

Baby

Location:

USA Loyal, WI, USA
Posted Breed: Puggle. Adorable puggle puppies. Dad & Grandfather to pups is a Registered purebred pug and the Mom is a beagle. Pretty much like a pug but their noses aren't as...
Similar Dog Breeds for Puggle
Browse thru Puggle Puppies for Sale near Clare, Illinois, USA area listings on PuppyFinder.com to find your perfect puppy. If you are unable to find your Puggle puppy in our Puppy for Sale or Dog for Sale sections, please consider looking thru thousands of Puggle Dogs for Adoption. Also, be sure to check the Puggle Dog Breeder listings in our Dog Breeder Directory, which feature upcoming dog litter announcements and current puppies for sale for that dog breeder. And don't forget the PuppySpin tool, which is another fun and fast way to search for Puggle Puppies for Sale near Clare, Illinois, USA area and Puggle Dogs for Adoption near Clare, Illinois, USA area.