Saint Bernard Puppies for Sale near Oklahoma City, Oklahoma, USA, Page 1 (10 per page)
Saint Bernard Litter of Puppies for Sale near South Dakota, BERESFORD, USA. ADN-602080. AKC Saint Bernard Puppies
AKC Saint Bernard Puppies
Date listed: 05/11/2023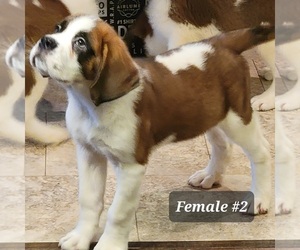 Litter of 7
Breed:

Price:

$800

Nickname:

Litter of 7

Gender:

Male(s) and Female(s)

Age:

15 Weeks Old

Location:
Loving, playful AKC Saint Bernard puppies. These fluffy little angels come with AKC registration, vaccinations, vet exam and 2-year health guarantee. All of our puppies are highly...
Saint Bernard Puppy for Sale near Oklahoma, Milburn, USA. ADN-06680783918. beau
beau
Date listed: 01/02/2023
Breed:

Price:

$2,000

Nickname:

Gender:

Male

Age:

Baby

Location:

USA Milburn, OK, USA
Posted Breed: Saint Bernard. This boy comes from champion, bloodline. Mom is 160. Pounds dad is close to 210 pounds with Poland bloodline these babies will be big!!!! these babys...
Saint Bernard Puppy for Sale near Oklahoma, Milburn, USA. ADN-06340058804. akc m/f
akc m/f
Date listed: 05/03/2022
Breed:

Price:

$2,500

Nickname:

Gender:

Male

Age:

Young

Location:

USA Milburn, OK, USA
Posted Breed: Saint Bernard. Dew claws removed age appropriate shots dewormed vet checked call or text me at (580) 371-XXXX
Breed Mixes of Saint Bernard
Similar Dog Breeds for Saint Bernard
Browse thru Saint Bernard Puppies for Sale near Oklahoma City, Oklahoma, USA area listings on PuppyFinder.com to find your perfect puppy. If you are unable to find your Saint Bernard puppy in our Puppy for Sale or Dog for Sale sections, please consider looking thru thousands of Saint Bernard Dogs for Adoption. Also, be sure to check the Saint Bernard Dog Breeder listings in our Dog Breeder Directory, which feature upcoming dog litter announcements and current puppies for sale for that dog breeder. And don't forget the PuppySpin tool, which is another fun and fast way to search for Saint Bernard Puppies for Sale near Oklahoma City, Oklahoma, USA area and Saint Bernard Dogs for Adoption near Oklahoma City, Oklahoma, USA area. - also known as: St. Bernhardshund, Bernhardiner, Alpine Mastiff