Alaskan Klee Kai Verified Dog Breeders in USA, Page 1 (10 per page)
Member since: 01/09/2017
Hillside Ranch Kennels Inc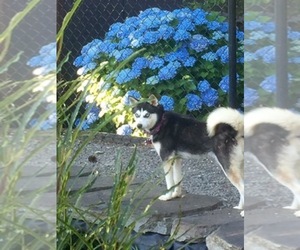 Breeds: Alaskan Klee Kai (+1)
Description:
We are breeders of quality Alaskan Klee Kai, Pomeranian, Alaskan Nanuk, and Pom Klee (Pomeranian and Klee Kai Mix) Puppies. Our puppies have great personalities and have been...
View more...
Member since: 02/14/2018
Little Northern Cuties LLC
We raise Kolu Huskies and Alaskan Nanuks! Family raised, these little cuties are total sweethearts. Here is a little more info on our 2 breeds. The first one is our Kolu Huskies....
Member since: 07/20/2017
Toy Alaskan Klee Kai
We own a small farm and fell in love with the Alaskan Klee Kai so we decided to raise a few so our 3 little boys could help out and learn about responsibility, hard work and enjoy...
Similar Dog Breeds for Alaskan Klee Kai