American Pit Bull Terrier Puppies for Sale near Jersey City, New Jersey, USA, Page 1 (10 per page)
American Pit Bull Terrier Puppy for Sale near Pennsylvania, LANSFORD, USA. ADN-611713. Pitbull puppy for sale
Pitbull puppy for sale
Date listed: 05/29/2023
Lexxy
Breed:

Price:

$650

Nickname:

Lexxy

Gender:

Female

Age:

8 Weeks Old

Location:

Distance:

Aprox. 94.8 mi from Jersey City
Hello this is Lex she reminds me so much of her Grandmom who is also a pit she had orange and ran naked beautiful eyes that change
American Pit Bull Terrier Puppy for Sale near Pennsylvania, LANSFORD, USA. ADN-611711. Pitbull puppy for sale
Pitbull puppy for sale
Date listed: 05/29/2023
Zoey
Breed:

Price:

$650

Nickname:

Zoey

Gender:

Female

Age:

8 Weeks Old

Location:

Distance:

Aprox. 94.8 mi from Jersey City
Hello here's zoey super cute all black with white markings
American Pit Bull Terrier Puppy for Sale near Pennsylvania, LANSFORD, USA. ADN-611709. Pitbull puppy for sale
Pitbull puppy for sale
Date listed: 05/29/2023
Lucy
Breed:

Price:

$650

Nickname:

Lucy

Gender:

Female

Age:

8 Weeks Old

Location:

Distance:

Aprox. 94.8 mi from Jersey City
Hello here's Lucy she's super tiny with a big personality half of her face his white she had the Merle markings
American Pit Bull Terrier Puppy for Sale near Pennsylvania, LANSFORD, USA. ADN-611706. Pitbull puppy for sale
Pitbull puppy for sale
Date listed: 05/29/2023
DEBO
Breed:

Price:

$650

Nickname:

DEBO

Gender:

Male

Age:

8 Weeks Old

Location:

Distance:

Aprox. 94.8 mi from Jersey City
Hello I have this beautiful tan and white face with blue eye babe who is extremely cute and playful also one of my top 3 the golden baby
American Pit Bull Terrier Puppy for Sale near Pennsylvania, LANSFORD, USA. ADN-611703. Pitbull puppy for sale
Pitbull puppy for sale
Date listed: 05/29/2023
Bubbles
Breed:

Price:

$750

Nickname:

Bubbles

Gender:

Female

Age:

8 Weeks Old

Location:

Distance:

Aprox. 94.8 mi from Jersey City
Hello this one name is bubbles all back with a little white marking absolutely beaitful perfect temper for a family
American Pit Bull Terrier Puppy for Sale near Pennsylvania, LANSFORD, USA. ADN-611701. Pitbull puppies for sale
Pitbull puppies for sale
Date listed: 05/29/2023
Blue
Breed:

Price:

$750

Nickname:

Blue

Gender:

Male

Age:

8 Weeks Old

Location:

Distance:

Aprox. 94.8 mi from Jersey City
Hello this tiny little baby is the runt of the group but don't let his size fool you he is super strong but very calm and needs that love and affection
American Pit Bull Terrier Puppy for Sale near Pennsylvania, LANSFORD, USA. ADN-611699. Pitbull puppy for sale
Pitbull puppy for sale
Date listed: 05/29/2023
Tank
Breed:

Price:

$750

Nickname:

Tank

Gender:

Male

Age:

8 Weeks Old

Location:

Distance:

Aprox. 94.8 mi from Jersey City
Now this one is one of the top 2 of mines his name is tank all tan with baby blue and green eyes perfect temper loves to be hugged and cuddled and play
American Pit Bull Terrier Puppy for Sale near Pennsylvania, LANSFORD, USA. ADN-611698. Pitbull puppy for sale
Pitbull puppy for sale
Date listed: 05/29/2023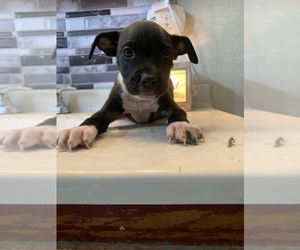 Payton
Breed:

Price:

$650

Nickname:

Payton

Gender:

Female

Age:

8 Weeks Old

Location:

Distance:

Aprox. 94.8 mi from Jersey City
Hello I have 8 beautiful puppies tri color Merle bloodline , this one is a female names Payton so cute and loving looking for a good home
American Pit Bull Terrier Litter of Puppies for Sale near Pennsylvania, BENTON, USA. ADN-606793. Sicario and Kami
Sicario and Kami
Date listed: 05/20/2023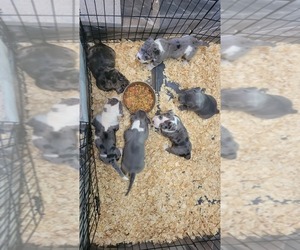 Litter of 6
Breed:

Price:

$1,500

Nickname:

Litter of 6

Gender:

Male(s) and Female(s)

Age:

7 Weeks Old

Location:

USA BENTON, PA, USA

Distance:

Aprox. 124.6 mi from Jersey City
6 beautiful blue Merle and white colors on these pups! They will be ready June 10th. Vet checked, first set of shots, and wormed. Both parents on site.
American Pit Bull Terrier Puppy for Sale near New York, ALBANY, USA. ADN-612987. Pitbull puppies For Sale
Pitbull puppies For Sale
Date listed: 05/31/2023
No Names
Breed:

Price:

$650*

Nickname:

No Names

Gender:

Male

Age:

9 Weeks Old

Location:

USA ALBANY, NY, USA

Distance:

Aprox. 134.1 mi from Jersey City
i have a litter of 12 Cross breed red nose and blue nose pitbull For anyone looking for a dog thats athletic & very protective these dogs may get pretty Big...
Browse thru American Pit Bull Terrier Puppies for Sale near Jersey City, New Jersey, USA area listings on PuppyFinder.com to find your perfect puppy. If you are unable to find your American Pit Bull Terrier puppy in our Puppy for Sale or Dog for Sale sections, please consider looking thru thousands of American Pit Bull Terrier Dogs for Adoption. Also, be sure to check the American Pit Bull Terrier Dog Breeder listings in our Dog Breeder Directory, which feature upcoming dog litter announcements and current puppies for sale for that dog breeder. And don't forget the PuppySpin tool, which is another fun and fast way to search for American Pit Bull Terrier Puppies for Sale near Jersey City, New Jersey, USA area and American Pit Bull Terrier Dogs for Adoption near Jersey City, New Jersey, USA area. - also known as: Pit Bull Terrier, Pitbull, Pit bull, Pit, Pit Terrier, Staffordshire Fighting Dog, Bull Baiter Dogs, Yankee Terrier, Rebel Terrier