Puppyfinder.com is proud to be a part of the online adoption community. Please consider adopting...
Please consider other online destinations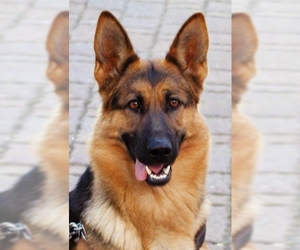 A.K.A.: German Shepherd, Alsatian, Alsatian Wolf Dog, Berger Allemand, Deutscher Schäferhund
Famous Dog Quotes
You think dogs will not be in heaven? I tell you, they will be there long before any of us.
Dog Quiz
What are the most popular 10 female dog names in the US
See Answer
Answer:
The majority of these popular dog names have passed the test of time. The Top 10 male and female dog names have included the same dog and puppy names for most of the last century. The most recent additions of the female Top 10 male dog names are Tasha and Misty - Tasha achieved its popularity due to the interest in Russian names and the Space Dogs.
Molly
Lady
Princess
Maggie
Tasha
Daisy
Missy
Lucy
Misty
Brandi