Puppyfinder.com is proud to be a part of the online adoption community. Please consider adopting...
Please consider other online destinations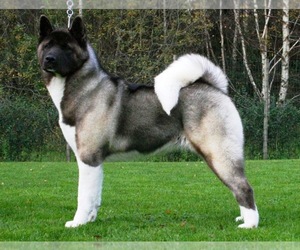 A.K.A.: Akita Inu, Japanese Akita, American Akita, Great Japanese Dog
Famous Dog Quotes
If you pick up a starving dog and make him prosperous, he will not bite you; that is the principal difference between a dog and a man.
Dog Quiz
Do you know where "Raining Cats and Dogs" phrase came from?
See Answer
Answer:
The phrase "Raining Cats and Dogs" originated in 17th Century England when many dogs and cats drowned during heavy downpours of rain and when rivers burst their banks. Their bodies would be seen floating in the rain torrents that raced through the streets giving the appearance that it had literally rained "cats and dogs"