Bordoodle Puppies for Sale near Olathe, Colorado, USA, Page 1 (10 per page)
Bordoodle Puppy for Sale near Colorado, OLATHE, USA. ADN-440845. Companion for Active Outdoorsy Family
Companion for Active Outdoorsy Family
Date listed: 08/06/2022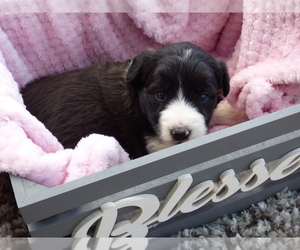 Gretel
Breed:

Price:

$2,500

Nickname:

Gretel

Gender:

Female

Age:

5 Weeks Old

Location:

USA OLATHE, CO, USA

Distance:

Aprox. 0.4 mi from Olathe
Beautiful, friendly, healthy puppy who would make a perfect companion for an active, outdoorsy families.
Bordoodle Puppy for Sale near Colorado, DOLORES, USA. ADN-440442. Bordoodle Orangen
Bordoodle Orangen
Date listed: 08/05/2022
Orangen
Breed:

Price:

$600

Nickname:

Orangen

Gender:

Female

Age:

10 Weeks Old

Location:

USA DOLORES, CO, USA
Orangen is a Hypoallergenic Bordoodle female puppy. She is spunky, playful, extremely smart, happy, little girl. She loves children, playing and investigating. She will make a...
Browse thru Bordoodle Puppies for Sale near Olathe, Colorado, USA area listings on PuppyFinder.com to find your perfect puppy. If you are unable to find your Bordoodle puppy in our Puppy for Sale or Dog for Sale sections, please consider looking thru thousands of Bordoodle Dogs for Adoption. Also, be sure to check the Bordoodle Dog Breeder listings in our Dog Breeder Directory, which feature upcoming dog litter announcements and current puppies for sale for that dog breeder. And don't forget the PuppySpin tool, which is another fun and fast way to search for Bordoodle Puppies for Sale near Olathe, Colorado, USA area and Bordoodle Dogs for Adoption near Olathe, Colorado, USA area.