Boston Terrier Puppies for Sale near Seattle, Washington, USA, Page 1 (10 per page)
Boston Terrier Puppy for Sale near Washington, SEATTLE, USA. ADN-376798. Boston Terriers
Boston Terriers
Date listed: 04/26/2022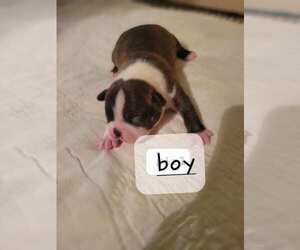 Litter of 5
Breed:

Price:

$1,995

Nickname:

Litter of 5

Gender:

Male(s) and Female(s)

Age:

16 Weeks Old

Location:

USA SEATTLE, WA, USA

Distance:

Aprox. 0.5 mi from Seattle
Both boys and girls available. Puppies were born on Feb 1, 2022. All dogs will have shots and microchip
Boston Terrier Litter of Puppies for Sale near Indiana, WARSAW, USA. ADN-388873. Adorable Boston Terrier Puppies for sale
Adorable Boston Terrier Puppies for sale
Date listed: 05/18/2022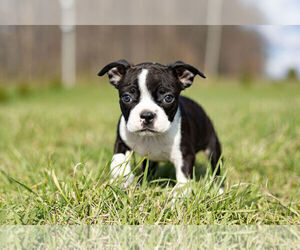 Litter of 2
Breed:

Price:

$1,650

Nickname:

Litter of 2

Gender:

Male(s) and Female(s)

Age:

9 Weeks Old

Location:

USA WARSAW, IN, USA
These sweet babies are looking for their fur-ever homes! They are so loving and cuddly and only waiting on you to pick them up! Check them out more at poshpuppiesindiana or call...
Boston Terrier Puppy for Sale near California, RANCHO PALOS VERDES, USA. ADN-391389. Boston Terrier
Boston Terrier
Date listed: 05/23/2022
Litter of 8
Breed:

Price:

$2,500*

Nickname:

Litter of 8

Gender:

Male(s) and Female(s)

Age:

10 Weeks Old

Location:
9 week old babies looking for their own family to love. 8 happy healthy vaccinated Boston Terrier puppies. Both parents on premises.
Breed Mixes of Boston Terrier
Similar Dog Breeds for Boston Terrier
Browse thru Boston Terrier Puppies for Sale near Seattle, Washington, USA area listings on PuppyFinder.com to find your perfect puppy. If you are unable to find your Boston Terrier puppy in our Puppy for Sale or Dog for Sale sections, please consider looking thru thousands of Boston Terrier Dogs for Adoption. Also, be sure to check the Boston Terrier Dog Breeder listings in our Dog Breeder Directory, which feature upcoming dog litter announcements and current puppies for sale for that dog breeder. And don't forget the PuppySpin tool, which is another fun and fast way to search for Boston Terrier Puppies for Sale near Seattle, Washington, USA area and Boston Terrier Dogs for Adoption near Seattle, Washington, USA area. - also known as: Boston Bull, Boston Bull Terrier, Boxwood