Boxer Puppies for Sale near Pine City, Minnesota, USA, Page 1 (10 per page)
Boxer Litter of Puppies for Sale near Minnesota, NEW ULM, USA. ADN-447561. Betsys Beauties Purebred AKC Registerable Boxers
Betsys Beauties Purebred AKC Registerable Boxers
Date listed: 08/16/2022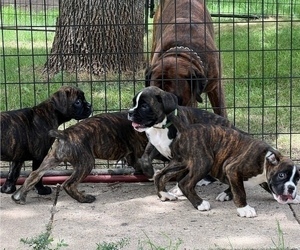 Litter of 2
Breed:

Price:

$1,300

Nickname:

Litter of 2

Gender:

Female

Age:

4 Months Old

Location:

USA NEW ULM, MN, USA

Distance:

Aprox. 127.6 mi from Pine City
This European lady is stunning! She has the ideal temperament, loves to be around people, loves attention and cuddle time, and is laidback. The puppies are from AKC Registered...
Boxer Puppy for Sale near Indiana, LINN GROVE, USA. ADN-470362. AKC Registered Female
AKC Registered Female
Date listed: 09/22/2022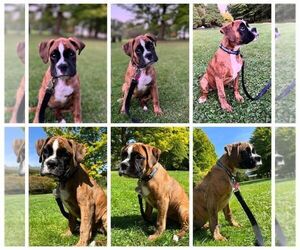 Zora
Breed:

Price:

$1,250*

Nickname:

Zora

Gender:

Female

Age:

14 Weeks Old

Location:
Zora is an AKC registered brindle female from a litter of 9 . Zora was born on June 23, 2022 and all shots are UTD, dew claws removed, tail docked. Zora is looking for her forever...
Similar Dog Breeds for Boxer
Browse thru Boxer Puppies for Sale near Pine City, Minnesota, USA area listings on PuppyFinder.com to find your perfect puppy. If you are unable to find your Boxer puppy in our Puppy for Sale or Dog for Sale sections, please consider looking thru thousands of Boxer Dogs for Adoption. Also, be sure to check the Boxer Dog Breeder listings in our Dog Breeder Directory, which feature upcoming dog litter announcements and current puppies for sale for that dog breeder. And don't forget the PuppySpin tool, which is another fun and fast way to search for Boxer Puppies for Sale near Pine City, Minnesota, USA area and Boxer Dogs for Adoption near Pine City, Minnesota, USA area. - also known as: German Boxer, Deutscher Boxer