| | |
| --- | --- |
| Overview: | The American Mastiff has a dry mouth and was originally developed by breeding English Mastiffs with Anatolians. They are loyal protectors and make good pets. |
| Breed Group: | Mastiff |
| Weight (lbs): | 140-200 |
| Height (in): | 28-35 |
| Colors: | Born dark, turn light fawn by the end of the first year |
| Coat: | Coat is smooth and short. Average amount of shedding |
| Character: | The American Mastiff is calm, loyal and seldom aggressive. |
| Temperament: | American Mastiffs do well in homes with children. They are loving and loyal companions, but will become aggressive if a family member is threatened. |
| Care: | Bathe as needed and brush to remove loose hairs. |
| Training: | This breed is intelligent and loyal. They respond well to consistent, gentle training. |
| Activity: | The American Mastiff tend to be content to lie around the house. Regular walks keep them fit. |
| Country of Origin: | USA |
| Life Expectancy: | 10-12 |
American Mastiff Puppy for Sale near MIAMI, FL, USA. ADN-473819. Chocolate Female Puppy
$2,800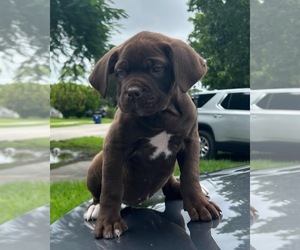 Puppy is raised on property and socialized with kids, toddlers, cats and other dogs. Very affectionate and loves hugs. Puppy is registered with embark and registered with ICA.
Chanel
American Mastiff
American Mastiff Puppy for Sale near CHAGRIN FALLS, OH, USA. ADN-461033. Mastiff Pup
$1,200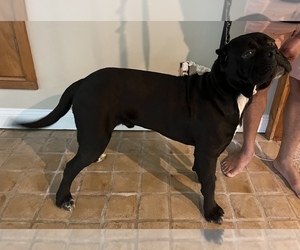 Mastiff puppy available that is 11 months old, fully vaccinated, and potty trained. He has a very charming personality and is a gentle giant. He is mostly black with some white...
Charlie
American Mastiff
Similar Dog Breeds for American Mastiff
Quick Breed Selector
0 - not important, 1 - smallest, 10 - largest