Pure Breeds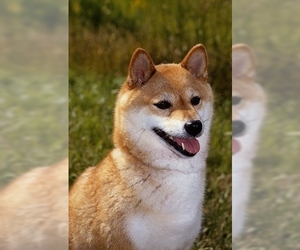 Shiba Inu
A.K.A. :
Japanese Shiba Inu, Japanese Small Size Dog, Shiba Ken
Quick Breed Selector
Quick navigation
Shiba Inu
A.K.A. :Japanese Shiba Inu, Japanese Small Size Dog, Shiba Ken
| | |
| --- | --- |
| Overview: | The Shiba Inu is a quiet and reserved dog indoors, but loves to romp and play in the great outdoors. He's a jumper, even able to catch birds, and often washes his face with paws ' like a cat! |
| Breed Group: | Non-Sporting |
| Weight (lbs): | male: about 23 female: about 17 |
| Height (in): | male: 14-16, female: 13-15 |
| Colors: | Red, red sesame (red with black overlay), or black and tan; white markings on the sides of muzzle, under jaw and neck, and on chest and stomach. |
| Coat: | Double coated with the outer coat being stiff and straight and the undercoat soft and thick. Guard hairs stand off the body are about 1.5-2" in length at the withers. Tail hair is slightly longer and stands open in a brush. |
| Character: | Shiba Inus are very curious and cheerful dogs. They are watchful and bond closely with their family. Easily housebroken, these dogs bark infrequently. |
| Temperament: | This breed is reserved around children and strangers, but they normally get along well with almost any creatures. |
| Care: | Its double coat needs brushing one or two times weekly, more when shedding. |
| Training: | This breed is very independent. Training sessions should be made to be fun and engaging, so he'll stay on task. |
| Activity: | The Shiba neds a daily workout,either in the form of a vigorous game in the yard, a long walk, or a good run in a safe area. |
| Country of Origin: | Japan |
| Health Issue: | This breed is generally hardy, with few genetic weaknesses. A small number may be prone to heart disease and progressive retinal atrophy. |
| Life Expectancy: | 12-15 |
At Perfect-puppy dot com, we have the PRETTIEST, HEALTHIEST and most PERFECT puppies. We speak English + Chinese. We are home breeders, not a puppy mill or middleman that sells...
NEW Shiba Inu Litter Coming On 12/15/2020
Breeds: Shiba Inu
USA LOS ANGELES, CA, USA
Similar Dog Breeds for Shiba Inu
Quick Breed Selector
0 - not important, 1 - smallest, 10 - largest