Pure Breeds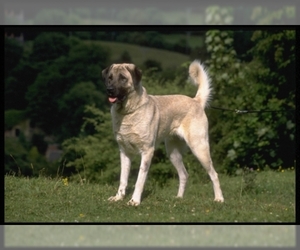 Anatolian Shepherd
A.K.A. :
Karabaş, Anatolian Blackhead, Kangal
Quick Breed Selector
Quick navigation
Anatolian Shepherd
A.K.A. :Karabaş, Anatolian Blackhead, Kangal
| | |
| --- | --- |
| Overview: | The Anatolian Shepherd Dog is a great working dog. They are still used in rural areas of one Turkey as the shepherds' loyal companion. |
| Breed Group: | Working |
| Weight (lbs): | male: 110-150, female: 80-120 |
| Height (in): | male:29, female: 27 |
| Colors: | Any color. The most common is fawn, with black mask. |
| Coat: | Short to rough with neck hair slightly longer. |
| Character: | Anatolian Shepherds are brave, cautious around strangers, and are sometimes stubborn. |
| Temperament: | This breed gets along well with other animals that they have known since an early age. They may not be as friendly with strangers. These dogs are fairly guarded around strangers, but rarely have problems with children in their own family. |
| Care: | The Anatolian Shepherd requires very little grooming. In times of shedding, use a double-row comb to remove dead and loose hairs. |
| Training: | This breed responds well to a firm and experienced trainer. Training should begin early. |
| Activity: | The Anatolian Shepherd requires a great deal of exercise and should be allowed a large fenced yard. |
| Health Issue: | This breed may be prone to eyelid entropion or to hypothyroidism. Hip dysplasia may occur, but not as much as in other large breeds. |
| Life Expectancy: | 10-13 |
Anatolian Shepherd Puppies
$400*
Pure Anatolian Shepherds from working parents. These great puppies have been exposed to chickens and goats and are ready to be trained to work. Both parents are AKC registered...
Litter of 7
Anatolian Shepherd
$800
Show quality puppies bred for working ability. These are very nice pups, healthy, alert, will make great guardians for livestock or family. Visit our website for pictures and...
ET Female A
Anatolian Shepherd
CKC Registered Anatolian Shepherd spayed female
$700*
Spiritwind's Athena (fawn with a liver mask), CKC registered, born July 15, 2015. Athena is a Livestock Guardian Dog but, unfortunately, as LSD's are prone too, I am not able to...
Athena
Anatolian Shepherd
Similar Dog Breeds for Anatolian Shepherd
Quick Breed Selector
0 - not important, 1 - smallest, 10 - largest