Pure Breeds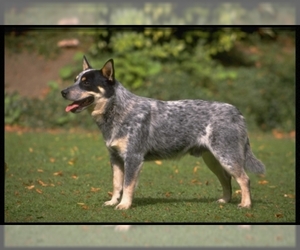 Australian Cattle Dog
A.K.A. :
ACD, Cattle Dog, Blue Heeler, Red Heeler, Queensland Heeler
Quick Breed Selector
Australian Cattle Dog
A.K.A. :ACD, Cattle Dog, Blue Heeler, Red Heeler, Queensland Heeler
| | |
| --- | --- |
| Overview: | Though native to Australia, the Australian Cattle Dog is used on farms all over the world. They have a need for lots of activity and enjoy herding just about anything they can find. |
| Breed Group: | Herding |
| Weight (lbs): | 35-45 |
| Height (in): | male:18-20, female:17-19 |
| Colors: | Blue or blue-mottled with or without other markings; Red speckled. Puppies born white, but get color within a few weeks. |
| Coat: | The outer layer is weather-resistant, short and rough. The inner layer is thick and short. |
| Character: | Australian Cattle Dogs are intelligent and very eager to work. They're loyal and very rarely bark |
| Temperament: | This breed is great with other dogs and children, if adequate socialization has occurred early on. |
| Care: | The Australian Cattle Dog requires occasional brushing and combing. |
| Training: | This breed is very intelligent and, therefore, trains quite easily. Keep him well occupied with opportunities for interactive play. |
| Activity: | The Blue Heeler needs a lot of exercise. |
| Country of Origin: | Australia |
| Health Issue: | This breed is prone to hip dysplasia, progressive retinal atrophy, and deafness. |
| Life Expectancy: | 12-15 |
$155
We have German shepherd - Blue heeler Puppy's females and males shots and dewormed ready for a good home Call 574-825-9590 EXT.1 They were 155.00 we are NOW asking $50.00! very...
Litter of 4
Australian Cattle Dog
$200*
3 Blue Merles (2 males, 1 female) 1 Caramel female with 4 white feet, 1 Black female with brown chest and brown inside front legs. Friendly and playful.
Litter of 5
Australian Cattle Dog
Australian cattle dog puppies
$700
Born June 29th 2019, ready for new FOREVER homes August 24th. First shots wormed every 2 weeks. Mom is a blue cattle dog. And dad is a red naturally stumpy tail cattle dog. Pups...
Litter of 7
Australian Cattle Dog
Similar Dog Breeds for Australian Cattle Dog
Breed Mixes of Australian Cattle Dog
Quick Breed Selector
0 - not important, 1 - smallest, 10 - largest