Pure Breeds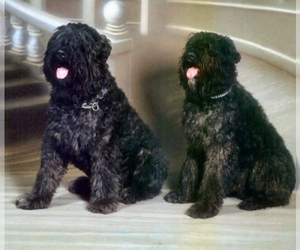 Bouvier Des Flandres
A.K.A. :
Flanders Cattle Dog, Vlaamse Koehond
Quick Breed Selector
Quick navigation
Bouvier Des Flandres
A.K.A. :Flanders Cattle Dog, Vlaamse Koehond
| | |
| --- | --- |
| Overview: | Bouviers can be very protective pets. They're suspicious of strangers and even wary of other dogs. They're also very intelligent. They can be well-suited for the country as they enjoy getting plenty of fresh air and exercise. |
| Breed Group: | Herding |
| Weight (lbs): | 69-90 |
| Height (in): | male: 24-28, female: 24-27 |
| Colors: | Fawn to black, including salt and pepper, gray, and brindle. |
| Coat: | Hair is tousled, double coat capable of withstanding inclement weather. The outer hairs are rough and harsh, with the undercoat being fine, soft and dense. |
| Character: | Bouvier des Flandres dogs are tough. They're brave and loyal and do not enjoy being teased. |
| Temperament: | This breed is very active and gets along well with children if well socialized. |
| Care: | The Bouvier des Flandres requires weekly grooming with a brush and comb. Also, make sure to clean ears, nails, and teeth routinely. It's harsh coat needs scissoring and shaping (clipping for pets and stripping for show dogs) every 3 months. |
| Training: | This breed learns at a very fast rate, so training is a joy. It's especially great with problem solving skills. |
| Activity: | The Bouvier des Flandres needs a good deal of exercise. |
| Country of Origin: | Belgium |
| Health Issue: | This breed is rarely ill. Some are prone to hip dysplasia and eye problems - such as cataracts. |
| Life Expectancy: | 10-12 |
$1,000
I have 9 very loved and socialized puppies. There Is 1male and 1 female left. They are black or gray brindle in color. They are AKC registered with docked tails and dewclaws...
Litter of 9
Bouvier Des Flandres
Similar Dog Breeds for Bouvier Des Flandres
Quick Breed Selector
0 - not important, 1 - smallest, 10 - largest