Pure Breeds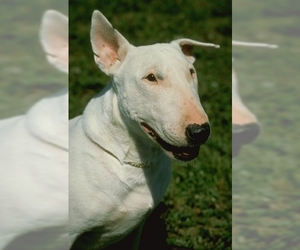 Bull Terrier
A.K.A. :
Bully, Gladiator, English Bull Terrier
Quick Breed Selector
Quick navigation
Bull Terrier
A.K.A. :Bully, Gladiator, English Bull Terrier
| | |
| --- | --- |
| Overview: | The Bull Terrier is very muscular and requires a good deal of exercise. This breed can be a loyal and playful companion, whether you live in the city or country. |
| Breed Group: | Terrier |
| Weight (lbs): | male: 55-65, female: 45-55 |
| Height (in): | 21-22 |
| Colors: | White variety: white, with markings on head permissible; colored variety: any color other than white, or any color with white markings; brindle preferred. |
| Coat: | Short, flat and harsh. |
| Character: | Bull Terriers are very independent and have a mind of their own. Tough and lively, this breed is a bundle of energy. |
| Temperament: | This breed gets along well with children and, assuming proper social training has taken place at an early age, they also get along with cats or other household pets. If another dog is already resident in the home, it may be unwise to get a Bull Terrier. |
| Care: | The Bull Terrier requires occasional brushing to remove dead and loose hairs. The ears should be cleaned on a regular basis. |
| Training: | This breed requires early obedience training for puppies. As adults, they are very difficult to train because they have a tendency to be stubborn. |
| Activity: | The Bull Terrier needs long walks and enjoys running and playing off the leash. |
| Country of Origin: | United Kingdom |
| Health Issue: | This breed is generally healthy, but prone to zinc deficiency and some other minor problems:heart problems, patellar luxation |
| Life Expectancy: | 10-12 |
$700
ACK registered Bull Terriers. I have both the mom and dad. 4 boys left. 1 black and white. 3 mostly black. I have lots of pics available
Bull Terrier
Bull Terrier
$1,400*
Bull terriers were born on September 16. All are very energetic and healthy. My vet has done there first shots and has certified them to be in good health.
Litter of 5
Bull Terrier
$1,500
Very sweet little girl, great temperament and structure. Loves people, raised with children, socialized with other dogs. Up to date on vaccinations and dewormings. Akc registered...
Peggie
Bull Terrier
Similar Dog Breeds for Bull Terrier
Quick Breed Selector
0 - not important, 1 - smallest, 10 - largest