Pure Breeds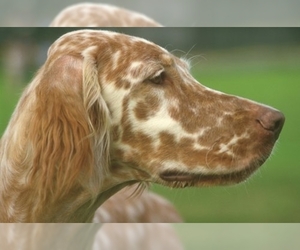 English Setter
A.K.A. :
Lawerack, Laverack, Llewellin
Quick Breed Selector
Quick navigation
English Setter
A.K.A. :Lawerack, Laverack, Llewellin
| | |
| --- | --- |
| Overview: | The English Setter is sweet and mild-mannered. An active dog, he will be a welcomed and devoted member for any family, happily joining you in just about any outing. |
| Breed Group: | Sporting |
| Weight (lbs): | male: 60-65; female: 50-55 |
| Height (in): | male: 25, female: 24 |
| Colors: | Black & white, white & orange, white & lemon, white & chestnut or tricolor. Speckling may be present.Flecks of these colors - over a white ground color. Puppies are born white, except for those with solid patches. |
| Coat: | Flat with feathering on the ears, underside, backs of legs, underside of thighs and tail. |
| Character: | English Setters are friendly, intelligent, and sensitive. |
| Temperament: | This breed gets along well with children, other dogs, and most household pets. |
| Care: | The English Setter should have its hair clipped or trimmed periodically.Brushing every 2 or 3 days. |
| Training: | This breed requires a consistent and loving approach from the trainer. |
| Activity: | The English Setter needs a lot of exercise, including regular long walks. Make sure you have a fenced yard with this one! |
| Country of Origin: | United Kingdom |
| Health Issue: | This breed is prone to hip dysplasia and weight gain. |
| Life Expectancy: | 10-12 |
English Setter puppies registered
$1,000
English Setter puppies males and females available. (speckling color starts to show up in pups when their about 3-5 wks old) Parents are excellent dogs, super sweet, loving, great...
Setters
English Setter
Pure bred english setters
$500
I own both mom and dad . mom is almost three dad I got two years ago. They are both stud book registered. they have all there shots and have there dew claws removed...
Litter of 9
English Setter
GUNNAR - English Setter (medium coat) Dog For Adoption
For Adoption
Posted Breed: English Setter (medium coat). Gunnar is a 4-year-old, neutered male. When he arrived in rescue, he was extremely underweight at a mere 22 lbs. He is a high-energy...
GUNNAR
English Setter
Similar Dog Breeds for English Setter
Quick Breed Selector
0 - not important, 1 - smallest, 10 - largest