Pure Breeds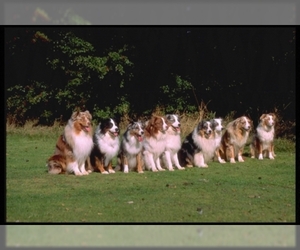 Miniature Australian Shepherd
A.K.A. :
Toy Australian Shepherd, Mini Australian Shepherd, Mini Aussie
Quick Breed Selector
Quick navigation
Miniature Australian Shepherd
A.K.A. :Toy Australian Shepherd, Mini Australian Shepherd, Mini Aussie
| | |
| --- | --- |
| Overview: | The Miniature Australian Shepherd is a well-balanced dog of medium size and bone. He is attentive and animated, showing strength and stamina combined with unusual agility. Slightly longer than tall, he has a coat of moderate length and coarseness with coloring that offers variety and individuality in each specimen. An identifying characteristic is his natural or docked bobtail. In each sex, masculinity or feminity is well-defined. Bone is moderate and clean with coarseness, heaviness or lightness being undesirable. Overall type, balance of conformation and movement are valued more highly than individual structural perfections because it is balance which enables him to fulfill his purpose. |
| Breed Group: | Herding |
| Weight (lbs): | 20-40 |
| Height (in): | 13-18 |
| Colors: | All colors are strong, clear and rich. The recognized colors are blue merle, red (liver) merle, solid black and solid red (liver) and with or without white markings and/or tan (copper) points with no preference. |
| Coat: | Of medium texture, straight to slightly wavy, weather resistant, of moderate length with an undercoat. |
| Character: | The Miniature Australian Shepherd is intelligent, primarily a working dog of strong herding and guardian instincts, he is an exceptional companion. He is versatile and easily trained, performing his assigned tasks with great style and enthusiasm. He is reserved with strangers but does not exhibit shyness. Although an aggressive, authoritative worker, viciousness toward people or animals is intolerable. |
| Temperament: | Miniature Australian Shepherds are easy going, perpetual puppies that love to play. Courageous, loyal and affectionate, they are excellent children's companions that are great with active children. A devoted friend and guardian, for they are naturally protective. Very lively, agile, and attentive, they are eager to please with a sixth sense about what the owner wants. |
| Care: | The coat of the Miniature Australian Shepherd is easy to groom and needs little attention. Brush occasionally with a firm bristle brush and bathe only when necessary. This breed is an average shedder. |
| Training: | This breed is quite intelligent, learning tasks very rapidly. Therefore, training is easy and quick. |
| Activity: | This energetic dog needs plenty of vigorous exercise to stay in shape. |
| Country of Origin: | USA |
| Health Issue: | Hip and eye problems can occur. Ensure sire and dam of puppies have been tested and are certified clear prior to purchasing a puppy. |
| Life Expectancy: | 12-13 |
$1,800*
Blue Merle (female) with Blue Eyes - ASDR, Red Merle (male) Green Eyes ASDR. Both with Full white collars and Tails Docked. These pups are very sweet and very playful. Pups know...
Litter of 2
Miniature Australian Shepherd
$1,100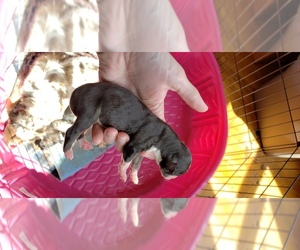 1 girl, 2 boys left $1100-1500. We also have a litter due 3/12. Deposit to hold
Puppies
Miniature Australian Shepherd
Similar Dog Breeds for Miniature Australian Shepherd
Breed Mixes of Miniature Australian Shepherd
Quick Breed Selector
0 - not important, 1 - smallest, 10 - largest