Pure Breeds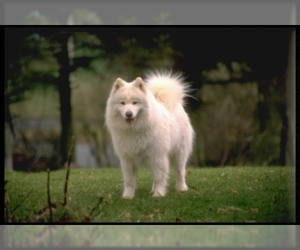 Samoyed
A.K.A. :
Bjelkier, Samoiedskaya Sobaka, Nenetskaya Laika
Quick Breed Selector
Quick navigation
Samoyed
A.K.A. :Bjelkier, Samoiedskaya Sobaka, Nenetskaya Laika
| | |
| --- | --- |
| Overview: | The Samoyed is a fun-loving dog, whether indoors or out. Very energetic, these dogs make dependable playmates for kids. |
| Breed Group: | Working |
| Weight (lbs): | male: 45-65, female: 35-50 |
| Height (in): | male: 21-23.5, female: 19-21 |
| Colors: | White, white and biscuit, cream, or all biscuit. |
| Coat: | The Samoyed is a doublecoated dog. The body is well covered with an undercoat of short, soft, thick, close wool with longer and harsh hair growing through it toform the outer coat, which stands straight out from the body. The coat forms a ruff around |
| Character: | Samoyeds are friendly and intelligent. They are somewhat stubborn, however, so are not always as obedient as you would like. Still, they have a gentle and watchful nature, and love to bark. |
| Temperament: | Gentle and playful, the Samoyed makes a good companion for a child or person of any age. It is a closely bonded family dog. It is amiable with strangers, other pets, and usually, other dogs. It is calm indoors, but this clever, sometimes mischievous breed needs daily physical and mental exercise. If allowed to become bored, it will dig and bark. It is independent and often stubborn, but it is willing to please and is responsive to its owner's wishes. It may tend to herd children. |
| Care: | Its thick coat needs brushing and combing 2 to 3 times a week, daily when shedding. |
| Training: | This breed requires variety and entertainment in the training protocol. Otherwise, he will be bored and not learn. He requires a calm and friendly approach. |
| Activity: | This dog needs plenty of exercise. Three short walks a day is not enough for this breed. Take it for very long walks, or have it run alongside you as you ride a bicycle or go jogging. They like to wander, so a good fence around the yard is required. |
| Country of Origin: | Russia |
| Health Issue: | This breed is prone to heart disease, diabetes, skin allergies, and progressive retinal atrophy (especially in males). |
| Life Expectancy: | 10-12 |
Samoyed Puppies litter just born ready in 8 weeks
$2,000
AKC purebred Samoyed puppies will be ready for sale in 7 weeks will update ad with pictures at 4 weeks and 6 weeks. They will be available to place a deposit at 6 weeks. Sired...
Full Litter
Samoyed
Bing from Korea - Samoyed (medium coat) Dog For Adoption
For Adoption
Posted Breed: Samoyed (medium coat). My name is Bing from Korea and I am a wonderful 6 month old Male Samoyed. I am 21 lbs. and so excited to find my new forever home. I am a very...
Bing from Korea
Samoyed
Sundance Meyer - Samoyed (long coat) Dog For Adoption
For Adoption
Posted Breed: Samoyed (long coat). HI - I'M SUNDANCE and I'm a truly gorgeous and stunning dog. I am a 1-year-old male long-haired white Samoyed Mix who recently...
Sundance Meyer
Samoyed
Similar Dog Breeds for Samoyed
Quick Breed Selector
0 - not important, 1 - smallest, 10 - largest