Pure Breeds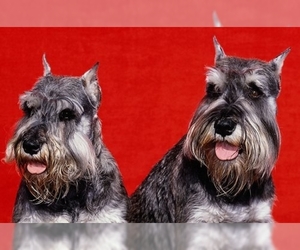 Schnauzer (Miniature)
A.K.A. :
Zwergschnauzer, Dwarf Schnauzer
Quick Breed Selector
Quick navigation
Schnauzer (Miniature)
A.K.A. :Zwergschnauzer, Dwarf Schnauzer
| | |
| --- | --- |
| Overview: | The Miniature Schnauzer is playful and spunky breed. They love being the center of attention and reward their owners with loyalty and affection. |
| Breed Group: | Terrier |
| Weight (lbs): | 13-15 |
| Height (in): | 12-14 |
| Colors: | Salt and pepper, black and silver, or black. |
| Coat: | Its coat is double, with a close undercoat, and hard, wiry outer coat which is longer on the legs, muzzle, and eyebrows. |
| Character: | Miniature Schnauzers are intelligent and attentive, yet have a stubborn streak. Despite this, they've very loyal to their family. |
| Temperament: | This breed gets along well with children, other dogs, and most household pets. Strangers are announced with loud barking. |
| Care: | Its wire coat needs combing once or twice weekly, plus scissoring and shaping (clipping for pets and stripping for show dogs) every couple of months. |
| Training: | This breed requires a confident and consistent handler. They are eager to learn, but require a non-repetitive approach to keep them on track. |
| Activity: | The Miniature Schnauzer has a lot of energy, so it needs to run and play in the yard and take long walks. |
| Country of Origin: | Germany |
| Health Issue: | This breed is usually healthy, although some are prone to kidney stones, liver disease, skin disorders, diabetes, liver ailments, and cysts. |
| Life Expectancy: | 12-14 |
Mini Schnauzer Dog To Adopt in Bozeman Montana
For Adoption
Greta is a Female Mini Schnauzer Dog for adoption to a very loving home in or near Bozeman, MT. This very special Dog is 10 yrs years old and weighs 20 lb pounds. Greta is being...
Greta
Schnauzer (Miniature)
Similar Dog Breeds for Schnauzer (Miniature)
Breed Mixes of Schnauzer (Miniature)
Quick Breed Selector
0 - not important, 1 - smallest, 10 - largest