Scottish Terrier
A.K.A. :Scottie, Aberdeenie
| | |
| --- | --- |
| Overview: | The Scottish Terrier is a very dignified dog. He's rather reserved and may often prefer the companionship of one particular family member. His loyalty is unmatched. |
| Breed Group: | Terrier |
| Weight (lbs): | male: 19-22, female: 18-21 |
| Height (in): | 10 |
| Colors: | Black, wheaten, or brindle of any color. |
| Coat: | The Scottish Terrier has a broken coat, it is hard, wiry outer coat with a soft, dense undercoat. The longer coat on the beard, legs and lower body is slightly softer. The distinctive eyebrows and beard add to its expression, which is keen and sharp. |
| Character: | Scottish Terriers are very closely bonded to their family. Known for their watchful nature, these dogs are independent and intelligent. |
| Temperament: | This breed is naturally inclined to get along with other pets. They are good with children, as long as the kids treat them gently and with respect. |
| Care: | Its wire coat needs combing two to three times weekly, plus stripping every three months. Pet's coat may be clipped. |
| Training: | This breed should receive consistent training with a respectful approach. Done properly, training will go very smoothly. |
| Activity: | This is a dog on the lookout for adventure, and it needs some excitement and exercise in its life every day. This can take the form of a moderate walk on leash, a boisterous game, or an off-leash exploration in a safe area. |
| Health Issue: | This breed is prone to Scottie cramp (a movement problem), flea allergies, skin and jaw problems. |
| Life Expectancy: | 12-15 |
Scottish Terrier Puppy for Sale near SHALLOTTE, NC, USA. ADN-297458. CKC Registered Scottish Terrier Puppies
CKC Registered Scottish Terrier Puppies
$1,295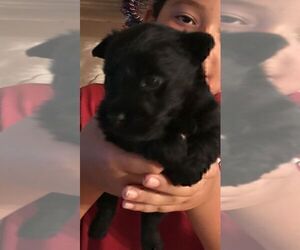 CKC registered Scottish terrier puppies, first shots and wormed. Delivery possibilities available. 910-231-9759
Barney
Scottish Terrier
Scottish Terrier Puppy for Sale near TERREBONNE, OR, USA. ADN-289029. AKC Black Scottish Terriers
AKC Black Scottish Terriers
$1,500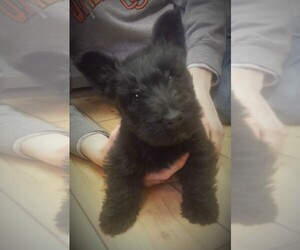 AKC registerable Purebred Scottish Terriers. Parents on site. Raised in our home with lots of socialization. Males $1,500. Females $1,700. Born 8/19/21 1st picture is a puppy...
Litter of 4
Scottish Terrier
Scottish Terrier Puppy for Sale near EL DORADO, CA, USA. ADN-286190. AKC Scottish Terrier Puppies
AKC Scottish Terrier Puppies
$1,800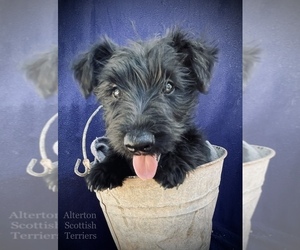 Purebred Scottie male puppies available in solid black. Scotties are a steady, medium sized dog with short legs. They are loyal, courageous, dignified and good family dogs. The...
Litter of 9
Scottish Terrier
Similar Dog Breeds for Scottish Terrier
Breed Mixes of Scottish Terrier
Quick Breed Selector
0 - not important, 1 - smallest, 10 - largest