Pure Breeds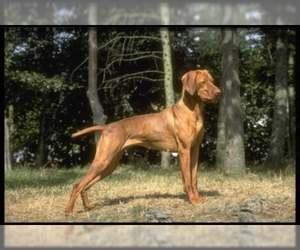 Vizsla
A.K.A. :
Hungarian Vizsla, Hungarian Pointer, Magyar Vizsla
Quick Breed Selector
Quick navigation
Vizsla
A.K.A. :Hungarian Vizsla, Hungarian Pointer, Magyar Vizsla
| | |
| --- | --- |
| Overview: | The Vizsla is a very energetic and fun-loving dog. They're also quite intelligent, thus learn very quickly. Gentle training makes them a great family pet. |
| Breed Group: | Sporting |
| Weight (lbs): | 45-65 |
| Height (in): | male: 22-24, female: 21-23 |
| Colors: | Solid golden rust. |
| Coat: | Short, smooth, dense and close-lying, without woolly undercoat. (The wire-haired variety is not recognized by the AKC). |
| Character: | Vizslas are a loyal and affectionate breed. Known for their intelligence, these dogs enjoy outdoor sports with their owners. |
| Temperament: | This breed gets along well with children, other dogs, and most household pets. They will bark at strangers. |
| Care: | The Vizsla with a short-haired coat requires very little grooming, but should occasionally have a rubber brush used to remove dead hairs. |
| Training: | This breed is easy to train because it is always eager to please. Use a consistent approach. |
| Activity: | The Vizsla is an energetic dog, needing lots of exercise and allowed to run free off the leash. |
| Country of Origin: | Hungary |
| Health Issue: | This breed is prone to heart disease. |
| Life Expectancy: | 10-14 |
Vizsla Puppy for Sale near KYLE, TX, USA. ADN-325160. ckc vizsla puppies
$1,500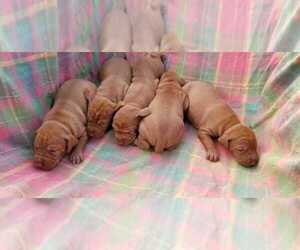 5 puppies, 2 female (1 spoken for) 3 males, will have first round of vaccines, ckc registration paper, tail and nail cut already, parents both on sight, 4th litter already, please...
Litter of 5
Vizsla
Vizsla Puppy for Sale near COATESVILLE, PA, USA. ADN-320507. Vizslas in SE PA
$2,000
Just in.. We have some Vizsla puppies available to a loving home. You will agree that the Vizsla is an amazing breed that is the perfect balance of love and energy.
Litter of 8
Vizsla
Similar Dog Breeds for Vizsla
Quick Breed Selector
0 - not important, 1 - smallest, 10 - largest