Mixed Breeds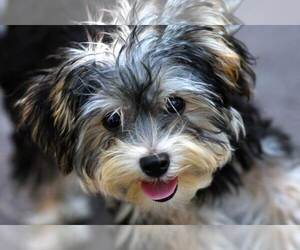 Yo-Chon
A.K.A. :
Yochon, Yorkie-Bichon, Borkie, Yorkshire Frise, Bichonyorkie, Yorchon
Quick Breed Selector
Quick navigation
Yo-Chon
A.K.A. :Yochon, Yorkie-Bichon, Borkie, Yorkshire Frise, Bichonyorkie, Yorchon
WATCH ALL ABOUT THEYO-CHON DOG BREED
| | |
| --- | --- |
| Overview: | he cross between a Yorkshire Terrier and Bichon Frise, Yorkie Bichon, is a designer dog known for their cute looks and low maintenance costs. This toy dog, with a blunt muzzle, black nose, round skull and eyes, and a long tail, has been recognized by different names. With the parent breeds' completely different temperaments, when the two are made to breed, it is difficult to predict the temperament and the appearance of the resultant cross-breed Yorkie Bichon. |
| Breed Group: | Toy |
| Weight (lbs): | 9-20lbs |
| Height (in): | 9-11 inch |
| Colors: | Black, Blonde, Brown, Cream, Dark, Brown, Golden, Gray, White |
| Coat: | The Yochon breed typically has a very full coat. While the Yorkshire genes tend to lean towards a long and silky coat, the Bichon genes exhibit a short and fluffy texture. |
| Character: | The Yo-Chon is friendly, smart and often playful. Generally very happy, most owners even consider this breed clownish. The Yo-Chon does well with children and bonds with the entire family. It loves to participate in family oriented activities. It may be shy around new people, but will eventually warm up. Some are known to have a strong prey drive and owners should be aware and work on training and socialization. |
| Temperament: | No matter which breeds personality shines strongest, the Yochon makes a fine companion dog. The Yorkie is more independent, while the bichon wants to be with his person all the time. With luck, you'll have a pet who is friendly but not anxious when you're out for a while. While the bichon likes other dogs and enjoys cats, Yorkies might challenge other canines -- even those several times their size. The Yochon should make a good watchdog, although he can tend to yap. Neither breed is the easiest to housebreak, so you'll have to stay calm and put in some extra effort in that department. |
| Care: | Yo-Chon requires a haircut from time to time, especially if it is a puppy. A puppy needs daily grooming including regular baths and nail-tip trimming at least once a week. Keep their hair off their face and eyes. The grooming sessions, however, should be short and pleasant to the puppy. |
| Training: | With both the parents being intelligent, the puppies are born smart and good at learning tricks. Giving them crate training is important, for which, puppy pens (wire crates) are better than plastic crates because, in that case, the pups can see what is going on around them. Also, help them understand what training and grooming processes are. It would also be a good idea to take them to kindergarten and obedience classes at times, since it is common for them to pick up multiple vicious traits like yapping, fearfulness or territorial aggression. Socialization training should include getting used to people, other pets and animals, 'uncanny' noises and situations. |
| Activity: | Yorkie Bichons need some medium amount of exercise schedules every day. Being a small-size breed at that, they do not need it in loads since they are already active by nature and can burn a good amount of calories by their general activities. Let them play freely in an enclosed area. However, it might be difficult for the owner at times to house-train this pet. |
| Country of Origin: | USA |
| Health Issue: | Like most other hybrid dogs, the Yorkie Bichon is otherwise healthy, but might suffer at times from certain specific syndromes with Legg-Calvé-Perthes disease being one of them. Common to this breed, this disease leads to an insufficient amount of blood supply to the thigh bones of the hind legs. Surgery can settle this issue. Other diseases and syndromes: Dental hazards, slipped kneecaps, progressive retinal atrophy (PRA), hypothyroidism and eye problems. Some of them are also sensitive to vaccinations. |
| Life Expectancy: | 10-13 Years |
Ike Precious Little Male Yochon Puppy
$1,499
Ike is such a loving and cuddly little Yochon Puppy. He is so sweet and loves to play with his toys and run around. He will make a great pet and would be a great addition to your...
Ike
Yo-Chon
Chester Spectacular Male Yochon Puppy
$1,799
Chester is a perfect little YoChon Puppy! He is a smart, fun, & playful puppy. Chester is a huge cuddler, and loves giving kisses. He will be an amazing addition to any family,...
Chester
Yo-Chon
Scooby Spunky Little Male Yochon
$699
Scooby is such a play and loving little Yochon Puppy. He is so sweet and loves to play with his toys and run around. He will make a great pet and would be a great addition to your...
Scooby
Yo-Chon
Similar Dog Breeds for Yo-Chon
Quick Breed Selector
0 - not important, 1 - smallest, 10 - largest