German Shorthaired Pointer Puppies for Sale near Blue Springs, Mississippi, USA, Page 1 (10 per page)
German Shorthaired Pointer Litter of Puppies for Sale near Mississippi, BLUE SPRINGS, USA. ADN-205222. Purebred GSPs from champion lineage
Purebred GSPs from champion lineage
Date listed: 05/31/2020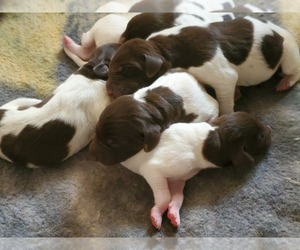 Litter of 6
Breed:

Price:

$1,000

Nickname:

Litter of 6

Gender:

Male(s) and Female(s)

Age:

8 Weeks Old

Location:

Distance:

Aprox. 0.2 mi from Blue Springs
We are offering purebred German Shorthaired Pointer puppies, born on May 14th, 2020. This was Isabella's first litter. The sire, Jäger, hails from a lineage of champion...
German Shorthaired Pointer Puppy for Sale near North Carolina, DUNN, USA. ADN-208377. GSP puppies for sale
GSP puppies for sale
Date listed: 07/05/2020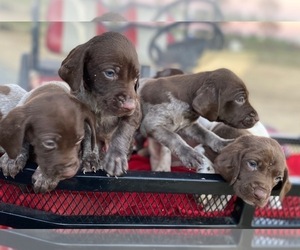 Millie Mae pupp
Breed:

Price:

$800

Nickname:

Millie Mae pupp

Gender:

Female

Age:

4 Weeks Old

Location:

USA DUNN, NC, USA
AKC Registered German Shorthair Puppies. Four weeks old Liver Roam. Males and Females. Previous litter has produced great puppies, pets and hunting dogs.
Similar Dog Breeds for German Shorthaired Pointer
USA Latest Ads
Ads by Verified Users
Non-USA Latest Ads
Ads by Verified Accounts
Browse thru German Shorthaired Pointer Puppies for Sale near Blue Springs, Mississippi, USA area listings on PuppyFinder.com to find your perfect puppy. If you are unable to find your German Shorthaired Pointer puppy in our Puppy for Sale or Dog for Sale sections, please consider looking thru thousands of German Shorthaired Pointer Dogs for Adoption. Also, be sure to check the German Shorthaired Pointer Dog Breeder listings in our Dog Breeder Directory, which feature upcoming dog litter announcements and current puppies for sale for that dog breeder. And don't forget the PuppySpin tool, which is another fun and fast way to search for German Shorthaired Pointer Puppies for Sale near Blue Springs, Mississippi, USA area and German Shorthaired Pointer Dogs for Adoption near Blue Springs, Mississippi, USA area. - also known as: Deutscher kurzhaariger, Vorstehhund, Deutsch Kurzhaar, Kurzhaar