Great Dane Puppies for Sale near Bonney Lake, Washington, USA, Page 1 (10 per page)
Great Dane Puppy for Sale near Washington, PASCO, USA. ADN-612928. Blue Merle Great Dane Puppies
Blue Merle Great Dane Puppies
Date listed: 05/31/2023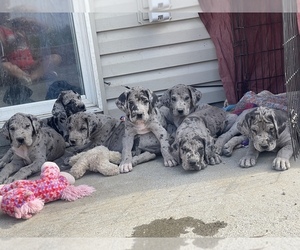 Litter of 7
Breed:

Price:

$1,000

Nickname:

Litter of 7

Gender:

Male(s) and Female(s)

Age:

8 Weeks Old

Location:

USA PASCO, WA, USA

Distance:

Aprox. 164.7 mi from Bonney Lake
Ready Now for their forever Home- Dad is AKC registered and Mom has DNA 100% confirmation. Mom and Dad are both on site. Puppies come with health guarantee. And First Vet check....
Great Dane Litter of Puppies for Sale near Wisconsin, Elroy, USA. ADN-585028. Pine Valley Great Danes Puppies
Pine Valley Great Danes Puppies
Date listed: 04/09/2023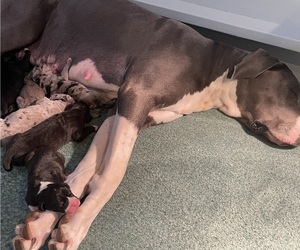 Litter of 7
Breed:

Price:

$1,500*

Nickname:

Litter of 7

Gender:

Male(s) and Female(s)

Age:

12 Weeks Old

Location:

USA Elroy, WI, USA
Charlotte had a healthy litter if BIG pups! We have 2 girls and 5 boys. She's a great momma. These pups have a calm temperament with a curious side. They come right up when we...
Great Dane Puppy for Sale near Georgia, CALHOUN, USA. ADN-608421. CKC GREAT DANE
CKC GREAT DANE
Date listed: 05/23/2023
DANE
Breed:

Price:

$1,500*

Nickname:

DANE

Gender:

Male

Age:

5 Weeks Old

Location:

USA CALHOUN, GA, USA
I HAVE GREAT DANE PUPPIES FOR SALE MALE AND FEMALE . FIRST SHOTS AND DEWORMED. READY 06-18-23. 770-881-1580
Breed Mixes of Great Dane
Similar Dog Breeds for Great Dane
Browse thru Great Dane Puppies for Sale near Bonney Lake, Washington, USA area listings on PuppyFinder.com to find your perfect puppy. If you are unable to find your Great Dane puppy in our Puppy for Sale or Dog for Sale sections, please consider looking thru thousands of Great Dane Dogs for Adoption. Also, be sure to check the Great Dane Dog Breeder listings in our Dog Breeder Directory, which feature upcoming dog litter announcements and current puppies for sale for that dog breeder. And don't forget the PuppySpin tool, which is another fun and fast way to search for Great Dane Puppies for Sale near Bonney Lake, Washington, USA area and Great Dane Dogs for Adoption near Bonney Lake, Washington, USA area. - also known as: Deutsche Dogge, German Mastiff