Great Pyrenees Puppies for Sale near Kirbyville, Missouri, USA, Page 1 (10 per page)
Great Pyrenees Puppy for Sale near Missouri, BILLINGS, USA. ADN-614032. Great Pyrenees Puppies
Great Pyrenees Puppies
Date listed: 06/01/2023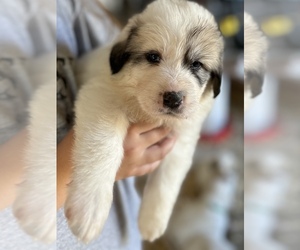 Litter of 7
Breed:

Price:

$300

Nickname:

Litter of 7

Gender:

Male(s) and Female(s)

Age:

4 Weeks Old

Location:

Distance:

Aprox. 36.9 mi from Kirbyville
We have 7 puppies available from our litter of 10, 2 males and 5 females. All will be vet checked, dewormed on a regular schedule, and up to date on shots. Great temperament,...
Great Pyrenees Puppy for Sale near Missouri, Foley, USA. ADN-06867957887. Mrs. Potts
Mrs. Potts
Date listed: 05/22/2023
Breed:

Price:

$1,800

Nickname:

Gender:

Female

Age:

Baby

Location:

USA Foley, MO, USA
Posted Breed: Great Pyrenees. Beauty and the Beast theme "Mrs. Potts" is a gorgeous Moby & Amara puppy. She will be ready to go home on June 9th. She is out of...
Breed Mixes of Great Pyrenees
Similar Dog Breeds for Great Pyrenees
Browse thru Great Pyrenees Puppies for Sale near Kirbyville, Missouri, USA area listings on PuppyFinder.com to find your perfect puppy. If you are unable to find your Great Pyrenees puppy in our Puppy for Sale or Dog for Sale sections, please consider looking thru thousands of Great Pyrenees Dogs for Adoption. Also, be sure to check the Great Pyrenees Dog Breeder listings in our Dog Breeder Directory, which feature upcoming dog litter announcements and current puppies for sale for that dog breeder. And don't forget the PuppySpin tool, which is another fun and fast way to search for Great Pyrenees Puppies for Sale near Kirbyville, Missouri, USA area and Great Pyrenees Dogs for Adoption near Kirbyville, Missouri, USA area. - also known as: Patou, Chien des Pyrénées, Chien de Montagne des, Pyrénées, Montañés del Pirineo, Gos de muntanya dels, Pirineus