Great Pyrenees Puppies for Sale near Troy, Missouri, USA, Page 1 (10 per page)
Great Pyrenees Puppy for Sale near Missouri, TROY, USA. ADN-503685. Pumpkin
Pumpkin
Date listed: 11/19/2022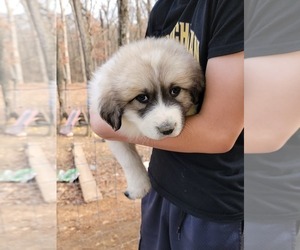 Pumpkin
Breed:

Price:

$225*

Nickname:

Pumpkin

Gender:

Female

Age:

8 Weeks Old

Location:

USA TROY, MO, USA

Distance:

Aprox. 0.7 mi from Troy
Great Pyrenees, female, Ready December 3
Great Pyrenees Puppy for Sale near Florida, OCALA, USA. ADN-500416. Stunning Pyrenees Puppies
Stunning Pyrenees Puppies
Date listed: 11/14/2022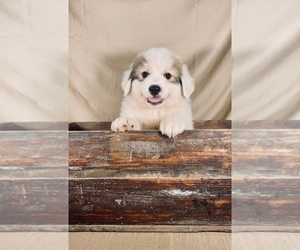 Litter of 5
Breed:

Price:

$750

Nickname:

Litter of 5

Gender:

Male(s) and Female(s)

Age:

11 Weeks Old

Location:

USA OCALA, FL, USA
Beautiful litter of Great Pyrenees puppies. 750 to rehome. - Vaccinated - Microchipped - Health Certified These babies are fluffy and beautiful! To see more pics of each,...
Great Pyrenees Puppy for Sale near Missouri, Springfield, USA. ADN-06557731747. Female 4
Female 4
Date listed: 10/05/2022
Breed:

Price:

$1,600

Nickname:

Gender:

Female

Age:

Baby

Location:
Posted Breed: Great Pyrenees. This little girl is sweet and a bit timid - she thoroughly enjoys human and animal companionship but isnt overbearing! She would be a wonderful guard...
Breed Mixes of Great Pyrenees
Similar Dog Breeds for Great Pyrenees
Browse thru Great Pyrenees Puppies for Sale near Troy, Missouri, USA area listings on PuppyFinder.com to find your perfect puppy. If you are unable to find your Great Pyrenees puppy in our Puppy for Sale or Dog for Sale sections, please consider looking thru thousands of Great Pyrenees Dogs for Adoption. Also, be sure to check the Great Pyrenees Dog Breeder listings in our Dog Breeder Directory, which feature upcoming dog litter announcements and current puppies for sale for that dog breeder. And don't forget the PuppySpin tool, which is another fun and fast way to search for Great Pyrenees Puppies for Sale near Troy, Missouri, USA area and Great Pyrenees Dogs for Adoption near Troy, Missouri, USA area. - also known as: Patou, Chien des Pyrénées, Chien de Montagne des, Pyrénées, Montañés del Pirineo, Gos de muntanya dels, Pirineus