Pug Puppies for Sale near Scottville, Michigan, USA, Page 1 (10 per page)
Pug Puppy for Sale near Michigan, NILES, USA. ADN-276169. AKC Pug Puppies
AKC Pug Puppies
Date listed: 07/25/2021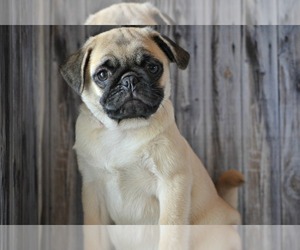 Pugs
Breed:

Price:

$1,000

Nickname:

Pugs

Gender:

Male

Age:

11 Weeks Old

Location:

USA NILES, MI, USA

Distance:

Aprox. 146.7 mi from Scottville
How can you resist these adorable faces! Ready to go with age appropriate shots and vet checks. Come meet them and take your new friend home today! Full AKC registration
Pug Litter of Puppies for Sale near Indiana, WARSAW, USA. ADN-269877. Adorable AKC import Champion Line Pug Puppies
Adorable AKC import Champion Line Pug Puppies
Date listed: 06/29/2021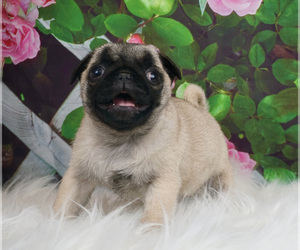 Litter of 2
Breed:

Price:

$2,350

Nickname:

Litter of 2

Gender:

Male(s) and Female(s)

Age:

12 Weeks Old

Location:

USA WARSAW, IN, USA
These adorable AKC Champion Import Bloodline Pug puppies are ready to go home with you today! They are full of energy and ready to see what adventures you can go on together!...
Pug Puppy for Sale near Illinois, NORTH AURORA, USA. ADN-267749. ADORABLE ENERGETIC FEMALE PUG
ADORABLE ENERGETIC FEMALE PUG
Date listed: 06/21/2021
Cindy
Breed:

Price:

$1,550

Nickname:

Cindy

Gender:

Female

Age:

10 Weeks Old

Location:
WONDERFUL ADORABLE FEMALE PUG PUPPY.FULL OF ENERGY VERY PLAYFUL.READY TO GO HOME NOW.COME TO OUR HOME AND PICK HER UP TODAY.HAS BEEN TO VET ALREADY HAS VET RECORD OF HEALTH AND...
Similar Dog Breeds for Pug
Browse thru Pug Puppies for Sale near Scottville, Michigan, USA area listings on PuppyFinder.com to find your perfect puppy. If you are unable to find your Pug puppy in our Puppy for Sale or Dog for Sale sections, please consider looking thru thousands of Pug Dogs for Adoption. Also, be sure to check the Pug Dog Breeder listings in our Dog Breeder Directory, which feature upcoming dog litter announcements and current puppies for sale for that dog breeder. And don't forget the PuppySpin tool, which is another fun and fast way to search for Pug Puppies for Sale near Scottville, Michigan, USA area and Pug Dogs for Adoption near Scottville, Michigan, USA area. - also known as: Chinese pug, Dutch bulldog, Dutch mastiff, Mini mastiff, Mops, Carlin