Pyredoodle Puppies for Sale near Hulbert, Oklahoma, USA, Page 1 (10 per page)
Pyredoodle Puppy for Sale near Oklahoma, PRYOR, USA. ADN-272651. Pyredoodle litter
Pyredoodle litter
Date listed: 07/11/2021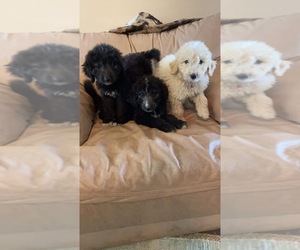 Pyredoodle
Breed:

Price:

$1,500

Nickname:

Pyredoodle

Gender:

Male

Age:

11 Weeks Old

Location:

USA PRYOR, OK, USA

Distance:

Aprox. 27.2 mi from Hulbert
They are 9wks old ready to go now farm raised with livestock and children 5 males 2 females previous litter is maturing over 80+lbs
Pyredoodle Puppy for Sale near Oklahoma, WYANDOTTE, USA. ADN-273607. Pyredoodle puppies
Pyredoodle puppies
Date listed: 07/15/2021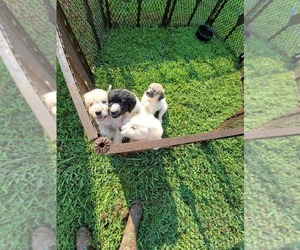 Litter of 4
Breed:

Price:

$300*

Nickname:

Litter of 4

Gender:

Female

Age:

7 Weeks Old

Location:

Distance:

Aprox. 63.6 mi from Hulbert
Born June 7, 2021 Ready at any time, eating solid food. They have vet appointment on August 8 for first puppy visit. Can keep until.then or can be picked up earlier. Very social...
Pyredoodle Puppy for Sale near Texas, SHERMAN, USA. ADN-271529. SWEET PYREDOODLE PUP
SWEET PYREDOODLE PUP
Date listed: 07/07/2021
Pyredoodle Pup
Breed:

Price:

$1,999

Nickname:

Pyredoodle Pup

Gender:

Female

Age:

10 Weeks Old

Location:

USA SHERMAN, TX, USA

Distance:

Aprox. 180.3 mi from Hulbert
Sweet Little Purple is healthy happy, and looking for a forever home. She has that wonderful Pyredoodle personality and will make an awesome friend and companion! She will be...
Browse thru Pyredoodle Puppies for Sale near Hulbert, Oklahoma, USA area listings on PuppyFinder.com to find your perfect puppy. If you are unable to find your Pyredoodle puppy in our Puppy for Sale or Dog for Sale sections, please consider looking thru thousands of Pyredoodle Dogs for Adoption. Also, be sure to check the Pyredoodle Dog Breeder listings in our Dog Breeder Directory, which feature upcoming dog litter announcements and current puppies for sale for that dog breeder. And don't forget the PuppySpin tool, which is another fun and fast way to search for Pyredoodle Puppies for Sale near Hulbert, Oklahoma, USA area and Pyredoodle Dogs for Adoption near Hulbert, Oklahoma, USA area.