Shih Tzu Puppies for Sale near Cantonment, Florida, USA, Page 1 (10 per page)
Shih Tzu Puppy for Sale near Florida, CANTONMENT, USA. ADN-275049. Male Shih Tzu puppy
Male Shih Tzu puppy
Date listed: 07/21/2021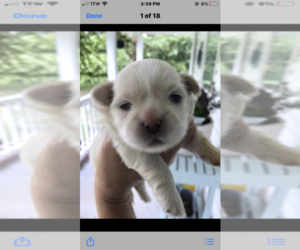 Grayson
Breed:

Price:

$1,800

Nickname:

Grayson

Gender:

Male

Age:

2 Weeks Old

Location:

Distance:

Aprox. 0.6 mi from Cantonment
Fantastic bloodline, tan & white, sweet as can be. Will be up to date on all vaccines, microchipped, one year fla health certificate and akc registered.
Shih Tzu Puppy for Sale near Idaho, NAMPA, USA. ADN-271758. Golden doodle poodle puppy
Golden doodle poodle puppy
Date listed: 07/08/2021
Puppy
Breed:

Price:

$1,500

Nickname:

Puppy

Gender:

Male

Age:

12 Weeks Old

Location:

USA NAMPA, ID, USA
Adorable and healthy puppies. F2bb Goldendoodle-standard Poodle. Raised in the home with other small breed dogs. Vaccine record from vet, dewormed. Socialized on the farm. Mom is...
Similar Dog Breeds for Shih Tzu
Browse thru Shih Tzu Puppies for Sale near Cantonment, Florida, USA area listings on PuppyFinder.com to find your perfect puppy. If you are unable to find your Shih Tzu puppy in our Puppy for Sale or Dog for Sale sections, please consider looking thru thousands of Shih Tzu Dogs for Adoption. Also, be sure to check the Shih Tzu Dog Breeder listings in our Dog Breeder Directory, which feature upcoming dog litter announcements and current puppies for sale for that dog breeder. And don't forget the PuppySpin tool, which is another fun and fast way to search for Shih Tzu Puppies for Sale near Cantonment, Florida, USA area and Shih Tzu Dogs for Adoption near Cantonment, Florida, USA area. - also known as: Chinese Lion Dog, Chrysanthemum Dog, Shih-Tzu