Shiranian Verified Dog Breeders in USA, Page 1 (10 per page)
Member since: 06/01/2018
Shiranians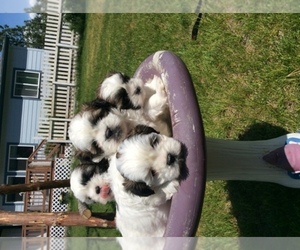 Breeds: Shiranian (+1)
USA FORD, WA, USA
Stud service availiable
Description:
Adoreable fluffy shitzu Pomeranian mixes. 3/4 shitzu 1/4 Pom. Mom and dad weigh less than 12 lbs. Great temperament and disposition. Will be wormed and have shots before leaving...
View more...
Member since: 02/02/2016
Adorable Shiranian Puppies
Breeds: Shiranian
Description:
I have Shih Tzu/Pom mix puppies that look like Ewoks. They are smart, lovable and playful companions. I have 1 male and 3 female puppies available. The male has light brown fur,...
View more...
Similar Dog Breeds for Shiranian