Shiranian Puppies for Sale near Detroit, Michigan, USA, Page 1 (10 per page)
Shiranian Litter of Puppies for Sale near Ohio, AKRON, USA. ADN-439806. Eddie
Eddie
Date listed: 08/04/2022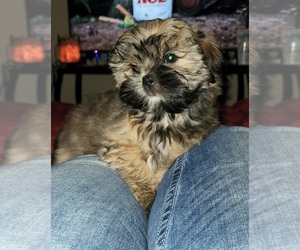 Litter of 2
Breed:

Price:

$600*

Nickname:

Litter of 2

Gender:

Male

Age:

13 Weeks Old

Location:

USA AKRON, OH, USA

Distance:

Aprox. 117.0 mi from Detroit
These fluffy fellow will grow to be around 6 to 10 pounds as adults. Mom, a full blooded shih tzu and dad, a ShiPom often called a shiranian (shih tzu pomeranian mix) weigh 10...
Shiranian Puppy for Sale near Indiana, SHIPSHEWANA, USA. ADN-445122. Shiranian Pup Peter
Shiranian Pup Peter
Date listed: 08/13/2022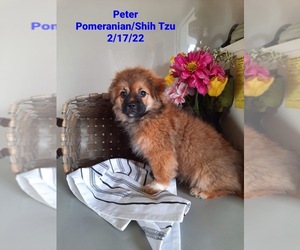 Peter
Breed:

Price:

$550

Nickname:

Peter

Gender:

Male

Age:

6 Months Old

Location:

Distance:

Aprox. 137.7 mi from Detroit
This absolutely adorable Shiranian (pomeranian shih tzu mix) pup is just waiting to meet you! With estimated adult weights of 15-20 lbs and hypoallergenic, minimal-shedding coats,...
Similar Dog Breeds for Shiranian
Browse thru Shiranian Puppies for Sale near Detroit, Michigan, USA area listings on PuppyFinder.com to find your perfect puppy. If you are unable to find your Shiranian puppy in our Puppy for Sale or Dog for Sale sections, please consider looking thru thousands of Shiranian Dogs for Adoption. Also, be sure to check the Shiranian Dog Breeder listings in our Dog Breeder Directory, which feature upcoming dog litter announcements and current puppies for sale for that dog breeder. And don't forget the PuppySpin tool, which is another fun and fast way to search for Shiranian Puppies for Sale near Detroit, Michigan, USA area and Shiranian Dogs for Adoption near Detroit, Michigan, USA area.