Australian Cattle Dog Verified Dog Breeders near Baltimore, Maryland, USA, Page 1 (10 per page)
Member since: 07/31/2017
Hubcap Barn Cattle Dogs
Breeds: Australian Cattle Dog
Distance: Aprox. 49.9 mi from Baltimore
Description:
New litter of pups, 8 in total. They are 5 weeks old as of now and are starting to show colors, mostly male and seem to be reds. All show great disposition and are forming great...
View more...
Member since: 05/10/2017
Blue Heeler Border Collie Puppies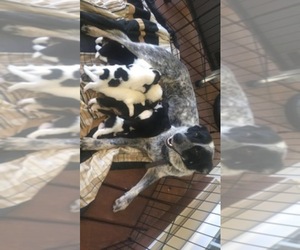 Breeds: Australian Cattle Dog
USA BRODNAX, VA, USA
Distance: Aprox. 194.7 mi from Baltimore
Description:
The mother is Border Heeler, and the father is a Border Collie. 7 puppies in the litter. Puppy #1: Mostly Black female #2: White with Black spots, runt of Litter, female #3:...
View more...
Breed Mixes of Australian Cattle Dog
Similar Dog Breeds for Australian Cattle Dog