Pure Breeds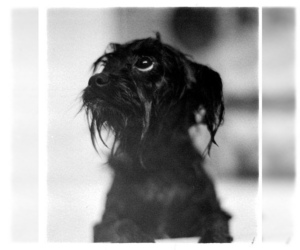 Affenpinscher
A.K.A. :
Affie, Monkey Dog, Monkey Pinscher, Monkey Terrier, Black-Mustached Devil, Affen
Quick Breed Selector
Quick navigation
Affenpinscher
A.K.A. :Affie, Monkey Dog, Monkey Pinscher, Monkey Terrier, Black-Mustached Devil, Affen
WATCH ALL ABOUT THEAFFENPINSCHER DOG BREED
| | |
| --- | --- |
| Overview: | The Affenpinscher, whose name translated from German means "monkey-like terrier", is one of the most ancient of all toy breeds. Also known as the Monkey Pinscher, the Monkey Dog, the Monkey Terrier, the Black-Mustached Devil or simply the Affen, this is a lively, sturdy little dog whose intelligence, disposition and size make it a wonderful house dog and companion. The Affenpinscher has a neat but shaggy appearance with an endearing facial expression accentuated by a flat face, a prominent chin, bushy eyebrows, a mustache and a beard. The Affenpinscher is known for being courageous, reliable and inquisitive. Legend has it that one Affen faced up to an angry stallion, and another confronted a grown grizzly bear on a trip with its owner to the Alaskan wilderness. The Affenpinscher was recognized by the American Kennel Club in 1936, as a member of the Toy Group. |
| Breed Group: | Toy |
| Weight (lbs): | 6,5-13,2 |
| Height (in): | 9-11.5 |
| Colors: | Black, gray, silver, red, black & tan or beige. |
| Coat: | The AKC calls the Affenpinscher's appearance, "shaggy but neat." Affenpinschers have a thick, rough coat that is about one inch think on the body, and becomes shorter toward the hindquarters and longer toward the head, creating a mane around the face |
| Character: | Affenpinschers are very intelligent, loyal, alert, and friendly. Affenpinschers are small dogs who carry themselves with great confidence.Affenpinschers are somewhat territorial when it comes to their toys and food, so they are not recommended for homes with very small children. This dog is mostly quiet, but can become very excited if attacked or threatened, and shows no fear toward any aggressor. |
| Temperament: | This breed gets along well with children, other Affenpinschers, and even other types of household pets. They are often alarmed by unknown visitors, however. Affenpinschers are tiny, but they have large personalities. They take themselves very seriously, and require everyone else to take them seriously as well, resulting in humorous interactions with people. Their terrier blood makes them spunky and sassy, and many owners wonder if these tiny toy dogs know just how small they really are. Mostly seen as "purse dogs" by ladies around the world, the Affen is a lovely travel companion, easy-going and accepting of new situations. Just keep an eye on the Affenpinscher about town, this breed can be mischievous. |
| Care: | Maintaining the desired appearance of the Affenpinscher requires a lot of grooming. They need to be brushed several times a week with both a slick brush and a metal comb. The Affen's coat should also be stripped several times a year, in order to maintain it's characteristic feel. Stripping of the coat involves pulling "dead" hair out by hand. Professional dog groomers can teach this simple technique. If the dog does not naturally wear his nails down, regular nail clippings are a must, as are monthly ear cleanings. |
| Training: | Affens are generally people-pleasers but can be stubborn, so early training is key to having an obedient dog. They respond best to positive reinforcement, with lots of treats and affection. Consistency and a gentle hand are required to prevent the Affen from becoming distrusting of people. This tiny dog, with a penchant for mischief makes a good therapy dog. They travel well, adapt well in new environments and make people laugh, making them an ideal visitor for lifting the spirits of the elderly or the sick. |
| Activity: | This toy breed does not require excessive amounts of exercise, a few short walks a day will suffice. Apartment-dwellers should be cautioned, however; as Affens bark, so while they are small enough to dwell in close-quarters, they may drive your neighbors crazy. Affenpinschers are good family dogs, they love to play and are affectionate, however they can be territorial and are not the best fit for a house with small children. When outdoors, Affens should be kept on a leash or in a fenced-in yard for their own protection. Toy breeds are easily injured and can even die from being stepped on, tripped over, or picked up by a large |
| Country of Origin: | Germany |
| Health Issue: | This breed has no major health concerns, although some are prone to fractures and slipped stifle. They can suffer from respiratory problems in hot weather. |
| Life Expectancy: | 12-14 |
Mimi - Affenpinscher Dog For Adoption
For Adoption
Posted Breed: Affenpinscher. Mimi was adopted from us as a puppy, but her family returned her recently. They got another dog and he and Mimi couldn't get along. Mimi is a very...
Mimi
Affenpinscher
Suzie NEEDS A FOSTER! - Affenpinscher / Brussels Griffon (medium coat) Dog For Adoption
For Adoption
Posted Breed: Affenpinscher / Brussels Griffon (medium coat). FOSTER HOME NEEDED! Suzie is a young healthy little girl looking for a new home. She was picked up as a stray without...
Suzie NEEDS A FOSTER!
Affenpinscher
Similar Dog Breeds for Affenpinscher
Breed Mixes of Affenpinscher
Quick Breed Selector
0 - not important, 1 - smallest, 10 - largest