Companion Dog Breeds Group, Page 1(10 PER PAGE)
Learn all about pure and mixed dog breeds from the Companion dog group.
Aussiedoodle Breed Information and Pictures
Aussiedoodle
A.K.A.: Aussie-Poo, Aussiepoo, Aussi-Poo
| | |
| --- | --- |
| Weight (lbs): | 20-70 lbs |
| Colors: | black, brown and white |
Overview:
The Aussiedoodle is a cross between an Australian Shepherd and a Poodle, usually a Standard or Miniature Poodle. Both of the breeds used to create Aussiedoodles are considered to be canine Einsteins, making this one super smart cross-breed.
See more…
Aussiedoodle Miniature Breed Information and Pictures
Aussiedoodle Miniature
A.K.A.: Aussiedoodle, Mini Aussiedoodle
| | |
| --- | --- |
| Weight (lbs): | 20 |
| Height (in): | 15 |
| Colors: | Solids, Tri-colors, Merle |
Australian Labradoodle Breed Information and Pictures
Australian Labradoodle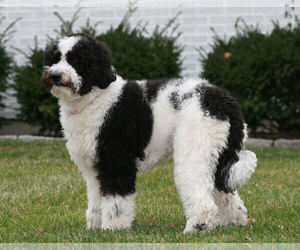 | | |
| --- | --- |
| Weight (lbs): | 15-65 lbs |
| Height (in): | 14-24 Inch |
| Colors: | Chalk, Cream, Gold, Caramel, Red, Black, Silver, Blue, Chocolate, Phantom, |
Bernedoodle (Miniature) Breed Information and Pictures
Bernedoodle (Miniature)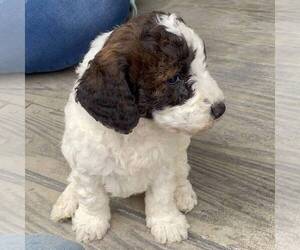 A.K.A.: Mini Bernedoodle, Toy Bernedoodle
| | |
| --- | --- |
| Weight (lbs): | 10-24 |
| Height (in): | 12-17 |
| Colors: | Mini Bernedoodles come in Tricolor, sable, merle, black, black and white, and phantom. |
Request to add a new breed