Pure Breeds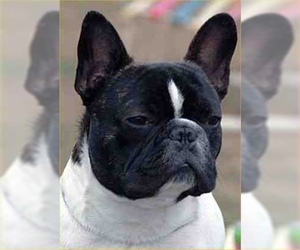 French Bulldog
A.K.A. :
Bouledogue Français, Frenchie
Quick Breed Selector
Quick navigation
French Bulldog
A.K.A. :Bouledogue Français, Frenchie
| | |
| --- | --- |
| Overview: | The French Bulldog is low key and enjoys lots of activity. He's well suited for either family living or attaching to just one special person. He can be a great watchdog, although will bark only when there is a real need. |
| Breed Group: | Non-Sporting |
| Weight (lbs): | not to exceed 28 |
| Height (in): | 11-13 |
| Colors: | Brindle, fawn, white, brindle and white. |
| Coat: | Coat is moderately fine, brilliant, short and smooth. Skin is soft and loose, especially at the head and shoulders, forming wrinkles. |
| Character: | French Bulldogs are very active and intelligent. Always alert, these dogs are curious and eager to please. |
| Temperament: | This breed is well-behaved and comfortable in most social settings. They have an even disposition, being active and playful, but not overly rambunctious. |
| Care: | The French Bulldog requires grooming with a rubber brush during times of shedding. Special lotion may be used on the facial skin folds for cleaning. |
| Training: | This breed learns very rapidly. Training must be strict, because he has a stubborn streak. |
| Activity: | The French Bulldog needs a moderate amount of exercise, though he does well as an apartment dog. |
| Country of Origin: | France |
| Health Issue: | This breed is prone to eye and respiratory problems. |
| Life Expectancy: | 10-12 |
$2,500
We have One gorgeous, amazing quality Blue Tan color French Bulldog puppy boy left from litter of 4. Garry is very sweet , loving , playful , friendly boy with great temperament....
Garry
French Bulldog
Similar Dog Breeds for French Bulldog
Breed Mixes of French Bulldog
Quick Breed Selector
0 - not important, 1 - smallest, 10 - largest