Pure Breeds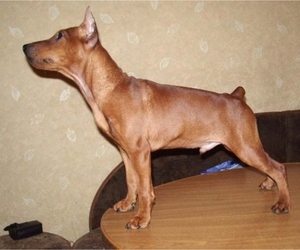 Miniature Pinscher
A.K.A. :
Zwergpinsche, Min Pin, King of the Toys
Quick Breed Selector
Quick navigation
Miniature Pinscher
A.K.A. :Zwergpinsche, Min Pin, King of the Toys
| | |
| --- | --- |
| Overview: | The Miniature Pinscher is a small dog, but has the energy and ego of a dog twice his size. Always up for fun and exercise, this breed makes a great family pet. |
| Breed Group: | Toy |
| Weight (lbs): | 8-10 |
| Height (in): | 10-12.5 |
| Colors: | Clear red, stag red, black and tan, chocolate and tan. |
| Coat: | Hair is smooth, short and lustrous, also hard. |
| Character: | Miniature Pinschers are alert, bold, and lively. |
| Temperament: | This breed gets along well with children, as long as the kids are not too rough. Some of these dogs tend to be aggressive with other dogs and strangers. However, this behavior is not common as long as proper socialization has taken place at an early age |
| Care: | Its coat is virtually carefree, requiring only occasional brushing to remove dead hair. |
| Training: | This breed requires consistency in training. They are eager to learn and obey commands very quickly. |
| Activity: | The Miniature Pinscher requires regular opportunities to run and play. |
| Country of Origin: | Germany |
| Health Issue: | This breed is very healthy, although some may have under active thyroid and hip dysplasia. |
| Life Expectancy: | 12-14 |
Female min pin puppy for sale
$1,000
I female Black and Tan puppy available .She will be ready May 14th. 50.00 deposit required.
Sassy
Miniature Pinscher
Similar Dog Breeds for Miniature Pinscher
Breed Mixes of Miniature Pinscher
Quick Breed Selector
0 - not important, 1 - smallest, 10 - largest