Pure Breeds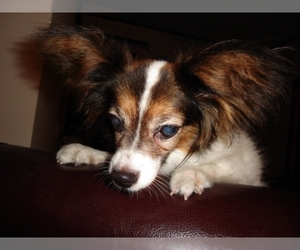 Papillon
A.K.A. :
Phalène, Continental Toy Spaniel, Epagneul Nain Continental
Quick Breed Selector
Papillon
A.K.A. :Phalène, Continental Toy Spaniel, Epagneul Nain Continental
| | |
| --- | --- |
| Overview: | The Papillon is a cuddly little dog, always eager to please his owner. He's playful and affectionate, suited for both city and country living. His name comes from the French word for 'butterfly' ('papillion' - with an 'I'), as the shape of his hairy ear |
| Breed Group: | Toy |
| Weight (lbs): | 9-10 |
| Height (in): | 8-11 |
| Colors: | White with patches of any color. |
| Coat: | Abundant, long, fine, silky, flowing, straight, with resilient quality. There is no undercoat. A profuse frill on the chest, tail is covered with a long,flowing plume and the butterfly ears are well fringed. |
| Character: | Papillons are affectionate and loveable. These dogs can be very boisterous and playful, eager to learn. |
| Temperament: | This breed is often jealous if their owner diverts attention from them. Thus, early training is required. They are generally able to get along well with children and other household pets. |
| Care: | The Papillon requires regular brushing and any loose hairs in and around the ears should be removed. |
| Training: | This breed responds best to a gentle approach in training. They're intelligent and eager to please, so training should go smoothly. |
| Activity: | The Papillion can adjust its exercise needs to the activity level of your family. |
| Country of Origin: | France |
| Health Issue: | This breed is prone to problems with the patella and fontanel. |
| Life Expectancy: | 12-15 |
$300
CKC Registered. 1yr 2mos. Unproven. Beautiful, smart, zippy, playful. Designer breeds welcome.
Stud
Papillon
$1,299
Spike is the pup you want! He is the perfect mix of cute and fun! He cant wait to look you in the eyes and melt your heart! Spike comes with a one-year health warranty, is ACA...
Spike
Papillon
$1,299
Prince is a very cool and sweet ACA Papillon! These puppies make great pets and are super cute! Prince will be a great addition to any family. He loves to cuddle and will play...
Prince
Papillon
Similar Dog Breeds for Papillon
Quick Breed Selector
0 - not important, 1 - smallest, 10 - largest