Pure Breeds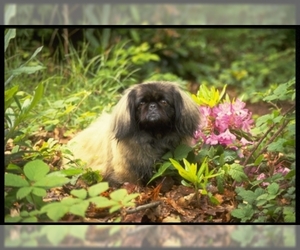 Pekingese
A.K.A. :
Peking lion dog, Lion Dog, Chinese Spaniel, Pelchie Dog, Peking Palasthund
Quick Breed Selector
Quick navigation
Pekingese
A.K.A. :Peking lion dog, Lion Dog, Chinese Spaniel, Pelchie Dog, Peking Palasthund
| | |
| --- | --- |
| Overview: | The Pekingese, named for the Chinese city of Peking (now known as Beijing), requires weekly brushing of their luxurious coat. Happy little dogs, this breed can make a terrific pet for families and is well-suited for apartment life. |
| Breed Group: | Toy |
| Weight (lbs): | not to exceed 14 |
| Height (in): | 6-9 |
| Colors: | All colors and patterns are allowable. |
| Coat: | Long, coarse-textured, straight, stand-off outer coat with thick, soft undercoat. The coat forms a mane on the neck and shoulder area. Longer fringing on the ears and tail. |
| Character: | Pekingese dogs are very affectionate, though they are not known for a fondness for strangers. |
| Temperament: | This breed gets along fine with children and other animals, as long as they are properly socialized. They do not like to be disturbed while sleeping and so may not be suited for homes with small children. |
| Care: | The Pekingese requires a good deal of grooming. This includes frequent brushing and shampooing. Excessive hair around the footpads requires occasional trimming. |
| Training: | This breed requires careful attention and positive reinforcement in training. |
| Activity: | The Pekingese needs a low level of exercise, making him especially well suited for apartment living. |
| Country of Origin: | China |
| Health Issue: | This breed is prone to catching colds, herniated disks, and dislocated kneecaps. |
| Life Expectancy: | 10-15 |
White Pekingese Female puppy
$1,500
Tillie is a beautiful White Pekingese, This Little girl was born Feb 13th, Updated pictures will be progressively updated on a weekly basis as she gets closer to time for her...
Tillie
Pekingese
Similar Dog Breeds for Pekingese
Quick Breed Selector
0 - not important, 1 - smallest, 10 - largest