| | |
| --- | --- |
| Overview: | The Poochon is a combination of the Bichon Frise and the Poodle. They can have the characteristics of either of the parent breeds. Since both breeds make good pets, the Poochon should also make a good companion. |
| Breed Group: | Toy |
| Weight (lbs): | 8-15 |
| Height (in): | 10-14 |
| Colors: | usually white, but can also have any of the colors common in poodles |
| Coat: | The coat has a looser curl than the poodle. The hair is thick. |
| Character: | Poochons will generally get along with children because the Bichon Frise and most Poodles like children. Some poodles shy away from kids, so there is a possibility that a few of these will too. |
| Temperament: | Poochons generally have a good temperament. Both parent dogs are good with children and other pets. |
| Care: | The coat needs to be brushed daily. They will need to be taken to a groomer for trimmings occasionally. |
| Training: | Poochons respond well to consistent, gentle training. |
| Activity: | The Poochon needs a moderate amount of exercise. |
| Country of Origin: | USA |
| Life Expectancy: | 15 |
Poochon Puppy for Sale near PRINCETON, KY, USA. ADN-208383. Jack
$1,400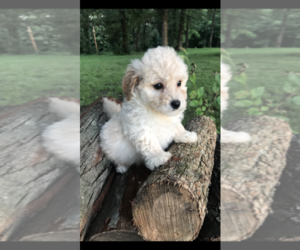 Jack is a cross between a beautiful female Bichon Frise and a handsome Min Poodle. He will be vet checked and current on vaccinations. This breed is known to do well with other...
Jack
Poochon
Poochon Puppy for Sale near MOUNT VERNON, OH, USA. ADN-207967. hunter male poochon
$2,999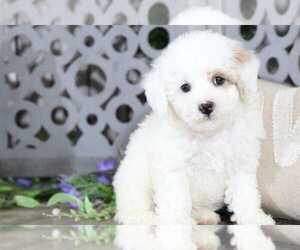 Hunter is a beautiful, F1B, Poochon. He is the definition of man's best friend. Poochons are intelligent, easy to house train, and lovable. Hunter is up-to-date on his shots...
hunter
Poochon
Similar Dog Breeds for Poochon
Quick Breed Selector
0 - not important, 1 - smallest, 10 - largest