All Pure Dog Breeds, Page 5(10 PER PAGE)
Learn all about pure dog breeds. See dog breed pictures, explore breed traits and characteristics.
Arubian Cunucu Dog Breed Information and Pictures
Arubian Cunucu Dog
| | |
| --- | --- |
| Weight (lbs): | 18-26 pounds |
| Height (in): | 16-20 inches |
Overview:
These dogs are a mixture of breeds brought to the island from elsewhere. Over time they have formed highly distinctive characteristics, although their origin is not easily evident. With unquestionable intelligence, uniquely blended individual style and excellent agility they perform many tasks including windsurfing and cliff diving.
See more…
Australian Cattle Dog Breed Information and Pictures
Australian Cattle Dog
A.K.A.: ACD, Cattle Dog, Blue Heeler, Red Heeler, Queensland Heeler
| | |
| --- | --- |
| Weight (lbs): | 35-45 |
| Height (in): | male:18-20, female:17-19 |
| Colors: | Blue or blue-mottled with or without other markings; Red speckled. Puppies born white, but get color within a few weeks. |
Australian Cobberdog Breed Information and Pictures
Australian Cobberdog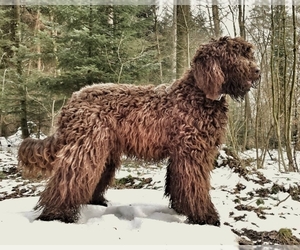 | | |
| --- | --- |
| Weight (lbs): | 30-77 Lbs |
| Height (in): | 15-26 Inc |
| Colors: | Black, Silver, Cream, Apricot, Chocolate, Caramel, Blue, Lavender |
Australian Labradoodle Breed Information and Pictures
Australian Labradoodle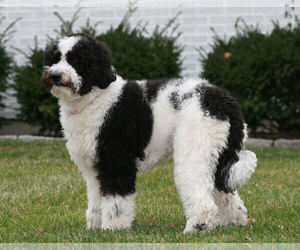 | | |
| --- | --- |
| Weight (lbs): | 15-65 lbs |
| Height (in): | 14-24 Inch |
| Colors: | Chalk, Cream, Gold, Caramel, Red, Black, Silver, Blue, Chocolate, Phantom, |
Australian Shepherd Breed Information and Pictures
Australian Shepherd
| | |
| --- | --- |
| Weight (lbs): | male: 50-65, female: 40-55 |
| Height (in): | male:20-23, female:18-21 |
| Colors: | Blue merle, black, red merle, or red - all with or without white markings and/or tan points. |
Request to add a new breed